When it comes to resume writing, the words you choose are just as important as the information you include. The right words can highlight your skills and accomplishments, making you stand out from other applicants.
Action verbs have an important part to play in this action. Action verbs are words that describe specific actions you have taken in past jobs.
When used effectively, they can help you craft a compelling resume that showcases your skills and experiences. We'll discuss the power of action verbs and how to incorporate them into your resume.

Crafting Your Resume To Stand Out From the Crowd
Looking for a new job is an opportunity to find a position that better suits your lifestyle or career needs. It may even open up the possibility of discovering new skills and interests you hadn't previously considered. Nevertheless, you still face the challenge of
What Are Action Verbs?
Action verbs are words that describe specific actions you have taken in the past. For example, instead of saying "I was responsible for," you could say "I managed." The former phrase is passive and lacks energy, while the latter phrase is active and conveys a sense of ownership and control.
Action verbs help you convey your skills and accomplishments in a way that is easy to understand and visually appealing.
Why Are Action Verbs Important In Resume Writing?
They Make Your Resume Stand Out
When hiring managers review resumes, they often see similar information presented in a similar format. Action verbs help you differentiate your resume from others by highlighting your skills and experiences in a unique way.
They Highlight Your Accomplishments
Action verbs help you showcase your accomplishments by putting the focus on what you have achieved. This can help you stand out from other applicants and make a strong case for why you're the best candidate for the job.
They Convey Energy and Enthusiasm
Action verbs convey energy and enthusiasm, making your resume more engaging and appealing to hiring managers. This can help you make a positive first impression and increase your chances of landing an interview.
They Make Your Resume Easier to Read
Action verbs are concise and descriptive, making your resume easier to read and understand. This can help you grab the attention of hiring managers and keep them interested in your qualifications.
What Professional Action Verbs Should You Use in Your Resume?
Of course you don't want to overload your resume with action verbs but with care some of the following can add extra impact allowing you to stand out from the crowd and help you get through any AI resume scanning process the organization may have.
Accomplished
Achieved
Admitted
Advised
Analyzed
Appointed
Approached
Arranged
Assessed
Assisted
Attained
Authorized
Boosted
Built
Calculated
Chaired
Clarified
Coached
Collaborated
Commissioned
Communicated
Compared
Completed
Conceptualized
Conducted
Consolidated
Contributed
Controlled
Coordinated
Corrected
Created
Delegated
Delivered
Demonstrated
Designed
Developed
Directed
Discovered
Displayed
Distributed
Diversified
Documented
Earned
Edited
Educated
Effected
Eliminated
Embodied
Enabled
Encouraged
Endorsed

Enforced
Engaged
Enhanced
Enlarged
Ensured
Established
Evaluated
Examined
Executed
Expanded
Experimented
Facilitated
Fostered
Founded
Gathered
Generated
Guided
Handled
Headed
Hired
Hosted
Identified
Implemented
Improved
Increased
Influenced
Initiated
Inspected
Installed
Instructed
Integrated
Interpreted
Interviewed
Introduced
Involved
Issued
Led
Learned
Leveraged
Liaised
Limited
Listened
Managed
Maintained
Managed
Maximized
Mediated
Mentored
Monitored
Motivated
Negotiated

Observed
Obtained
Operated
Optimized
Organized
Overhauled
Oversaw
Participated
Performed
Persuaded
Pinpointed
Placed
Planned
Positioned
Practiced
Prepared
Presented
Processed
Procured
Produced
Professionalized
Programmed
Progressed
Promoted
Proposed
Provided
Published
Purchased
Qualified
Questioned
Raised
Recovered
Recruited
Refined
Regulated
Reinforced
Reorganized
Repaired
Replaced
Reported
Represented
Researched
Resolved
Responded
Restored
Reviewed
Revitalized
Scheduled
Secured
Selected
Separated
How To Use Action Verb In A Resume With Examples
Using action verbs in a resume is crucial in demonstrating your skills and accomplishments effectively. It's important to choose strong and powerful verbs that accurately describe your achievements in a way that will impress potential employers.
Here are some tips on how to use action verbs in a resume, along with some examples:
Choose the right verb: When selecting the right verb, consider the type of task or achievement you are describing. For instance, if you managed a project, use verbs such as "managed," "coordinated," or "led." If you solved a problem, use verbs such as "resolved," "fixed," or "improved."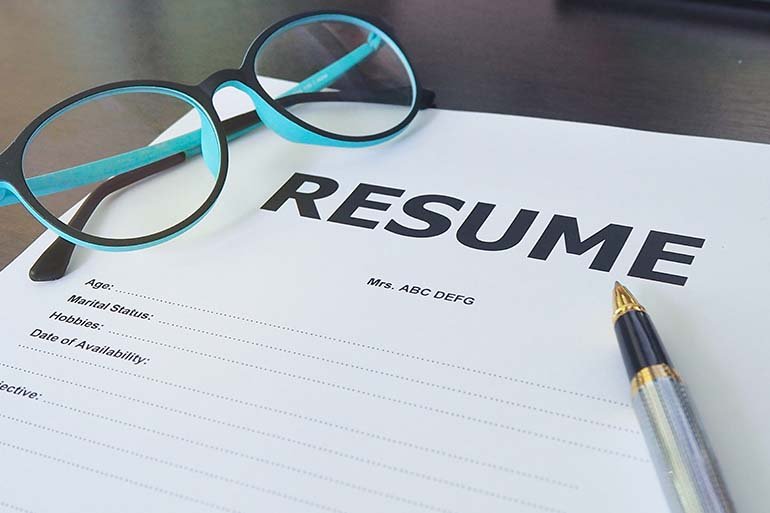 What Should You Include In Your Resume?
Your resume, is the most important tool when it comes to applying for a job. It doesn't matter how qualified you are, or how much experience you have – if your resume is presented poorly, or is badly written, you're going to struggle getting
Start Each Bullet Point With An Action Verb
Every bullet point in your resume should start with an action verb. This will make your resume more engaging and make it easier for hiring managers to quickly understand your skills and accomplishments.
Use Active Voice
Using active voice, rather than passive voice, makes your resume more engaging and easier to read. For example, instead of writing, "A report was created by me," write, "I created a report."
Example:
Managed a team of 10 employees to increase sales by 25%
Coordinated with cross-functional teams to launch new product line
Resolved customer complaints and improved customer satisfaction by 15%
Led a project that reduced production costs by 20%
Customize your Verbs to Match the Job Description
When tailoring your resume to a specific job, be sure to use the same verbs as those found in the job description. This will show the hiring manager that you are familiar with the job requirements and have the necessary skills for the position.
Example:
If the job description mentions, "Lead cross-functional teams," you can use "led cross-functional teams" in your resume.
If the job description mentions, "Manage customer relationships," you can use "managed customer relationships" in your resume.
By using action verbs in a strategic and effective way, you can make your resume stand out and impress potential employers. Choose the right verb, start each bullet point with an action verb, use active voice, and customize your verbs to match the job description to create a strong and compelling resume.
Conclusion
Action verbs are an important tool for creating a compelling resume. By highlighting your skills and accomplishments in a unique and engaging way, you can increase your chances of landing an interview and securing the job you want. So, the next time you're updating your resume, consider incorporating action verbs to make it stand out from the competition.
Please Note
: This post may contain affiliate links. By clicking on these links you will not be charged any extra for purchasing goods and services from our preferred partners however flippingheck.com may receive financial compensation which contributes to the running of the site. For more information please read our
Advertising & Affiliate Disclosure Policy