Any entrepreneur knows that excellent budget management skills can help you grow and succeed in business. Whether you're estimating the cost of your next big project or planning the budget for the next fiscal year, proper budgeting helps keep the company in good financial standing.
While budget management is almost always a challenge, there's an easier way of doing things — thanks to technology and the Internet!
Of course, there's also the myriad of Excel chart templates that you can access and download online. Still, these ready-made workbooks are not a one-size-fits-all solution. You have to find the right one for the task that you wish to accomplish. No worries, though, because there are thousands of available Excel templates for all sorts of budgeting needs!
Check out this collection of highly recommended Excel budget templates for small businesses.
First-year budget calculator – Smartsheet

The first-year budget calculator can be a valuable budget management tool for those who are just starting to build and grow their own business. This calculator-slash-tracker will come in handy when trying to gauge the business' initial operational cost.
Use this template to crunch numbers, calculate potential income and expenses, and get an insight into your target/ideal financial standing for the first year.
Balance Sheet – Microsoft

The balance sheet is fundamental for keeping the company's finances in check. But you have to admit, completing balance sheets the traditional way – on paper – can be such a painstaking task. Luckily, there's Excel!
When you have an Excel Balance Sheet template, everything – from itemizing the business' assets and liabilities to analyzing the figures – becomes more convenient. Plus, searching for specific rows and columns is such a breeze!
Simple Invoice – Microsoft

Most small businesses only have a few employees, which means one person often has to handle multiple roles. When the company has a limited workforce, you'll need tools that will help you speed up the most common and necessary transactions, including making an invoice.
The simple invoice template will help you compute totals and subtotals without any difficulties. What more? It's customizable, so you can insert your business logo to make it look official!
Profit and loss statement – Microsoft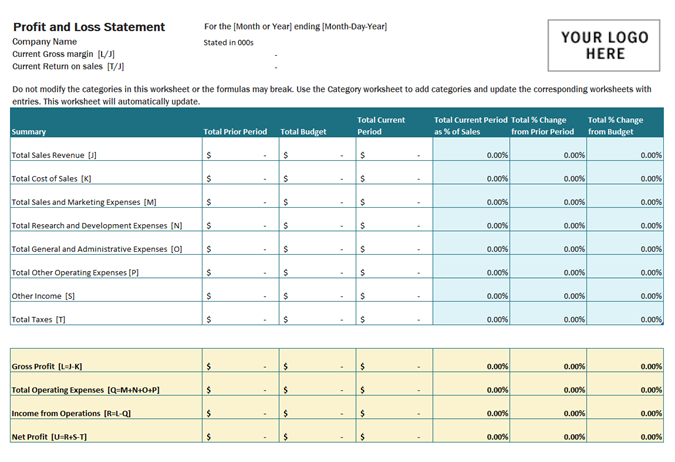 No matter how big or small your company is, you need to accurately calculate your profits and losses if you want your business to thrive.
With the profit and loss statement template, recording and calculating your business' revenue, expenses, gains, and losses becomes simpler and less time-consuming. Apply conditional formatting to the sheet, and it will also identify areas that need improvement so that you can adjust your budgeting strategy accordingly.
Detailed financial projections spreadsheet – Smartsheet


Every business needs to keep a close eye on their cash flow, even more so if they're just starting. The detailed financial projection spreadsheet is one of the more accurate cash flow templates around – an advanced budgeting tool that is ideal for startups and growing companies alike.
If you think your business has outgrown the basic cash flow templates, this is the upgrade you need. Use it to record and track your financial transactions or perform business expense projections. It's an Excel budget template designed for businesses with more complex operations.
Project Budget Template – Smartsheet

Budgeting for an upcoming project can give you quite a headache. Just when you think everything's set, last-minute stuff comes up, and you have to make due changes.
This project budget spreadsheet will help you track the spending of the different areas/phases of your project carefully and keep your finances aligned. The template also allows users to view and follow project-specific details, so you're always updated on the expenses and variances – if any.
Department Budget Template – Smartsheet

For a business with plenty of departments working together, the department budget template could make budget management a whole lot easier.
With this template, businesses can organize, track, and create budget projections for specific departments and share them with the team. Calculating, comparing, and reporting budget vs. actual expenditures has never been more convenient!
Please Note
: This post may contain affiliate links. By clicking on these links you will not be charged any extra for purchasing goods and services from our preferred partners however flippingheck.com may receive financial compensation which contributes to the running of the site. For more information please read our
Advertising & Affiliate Disclosure Policy