The mobile app market keeps evolving with leaps and bounds: the forecasted number of downloads is estimated to be 258 billion by 2022 globally. And such statistics are explicable by a wider usage of apps rather than websites. Thus, app developers are highly demanded nowadays.
The hiring process of such specialists requires a highly responsible approach as the quality of the final product entirely depends on them. Let's cover how to successfully hire app developers for your project, the primary steps, peculiarities, and pitfalls of this process.
Hiring Options
You can hire experts on various cooperation conditions depending on your specific case. Each option has a row of peculiarities worth mentioning.
Freelancers
Cooperation with these specialists has the lowest cost of all. Freelancers worth hiring should have excellent self-management skills. Else, you will have to control them yourself to get the final product to meet all your requirements. In addition, you may face a language barrier and a time zone difference. Besides, in most cases, freelancers require a prepayment, so there's a possibility that they won't simply fulfill their duties after receiving the money. Thus, you should thoroughly explore their previous projects, rates, and reviews.
In-House Team
On the contrary to freelancers, this option implies gathering a team in your office. Its main advantages include great communication and management. The last point may involve a CEO. In this case, you are responsible for interviewing potential employees. Yet, it's significant to mention that you have to pay rent, salaries, sick leaves, and buy qualitative hardware, so an in-house team is the most costly variant.
Outsourcing Company
Outsourcing your project is one of the best opportunities offered on the market due to the most beneficial value for money and cost-efficiency. Your expenses are decreased as you pay only for work done with no rent, salaries, and appliances. What's more, this option reduces the time-to-market, as the complete team of high-qualified experts is already assembled and ready for cooperation. The only drawbacks you may face are time zone difference and language barrier, but both of them may be easily solved with modern technologies. Besides, most teams from Eastern Europe, for example, Ukraine, possess fluent English.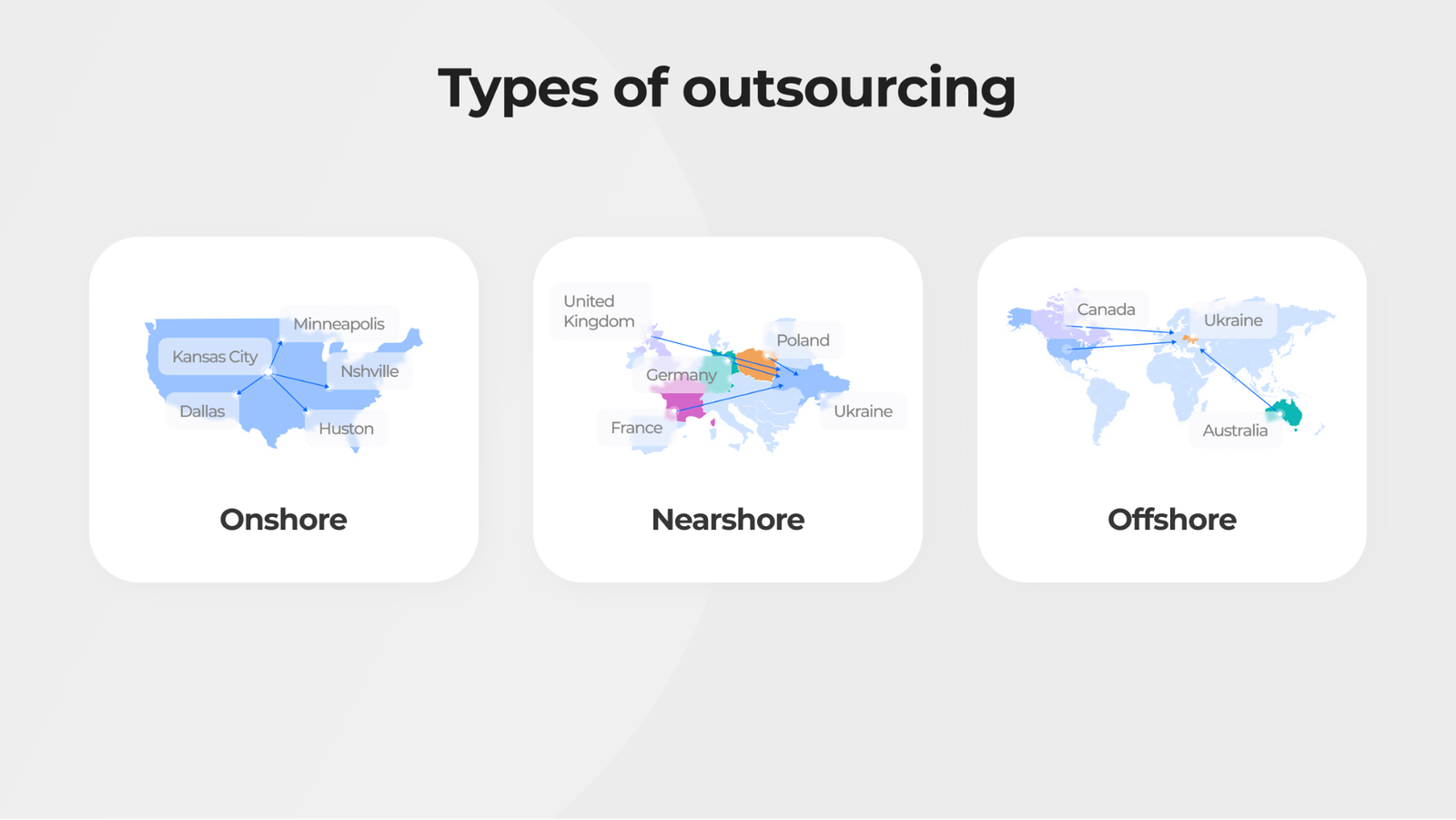 When To Apply To Outsource?
Bounded Budget
As it was previously mentioned, this option is great for decreasing your outgoings for your product development.
Talent Lacking
In case your project requires certain specialists who are not in your team now, you may find them in outsourcing companies and be confident in their competence in a variety of domains.
Strict Deadlines
You will meet all the deadlines with outsourcing as you are free of management and interviewing issues. Furthermore, such companies take over all the development-related obstacles and unexpected challenges.
Where to Hire Mobile App Developers?
You have a row of ways to find great programmers for hire. Let's consider them more thoroughly:
Requesting Referrals
A great way to find excellent specialists is to apply to colleagues from your niche so that they may recommend you developers with verified competence.
Tech Events
Such events can connect you with tech-savvy experts for further cooperation. Here's a list of tech events worth visiting to meet top-notch developers:
Code Mobile
DroidCon
Appdevcon
THAT Conference
ÜberConf
Websites
The online market is full of offers for every hiring option.
Searching for full-time employees:
Searching for freelancers:
Searching for IT vendors:

How To Find Skilled Mobile App Developers
We've prepared several tips for you to hire app programmers suitable specifically for your case:
Your Product's Platform
A pivotal point to consider is choosing the OS you want to build a solution for. Let's split the hard skills of developers depending on the platform you want to embrace:
Native app for Android/iOS (an app built for a single platform):
| | | |
| --- | --- | --- |
| Expertise | iOS | Android |
| Programming languages | Swift | Kotlin |
| IDEs | Xcode IDE | Android Studio |
| APIs | Cocoa Touch, UIKit, RESTful, OpenGL, Metal | Retrofit, GSON, EventBus |
| Frameworks | Core Data framework | Jetpack Compose, Android UI |
| Extra skills | Knowledge in UI/UX design, Apple Human Interface Guidelines | Expertise in Material Design Guidelines |
Cross-Platform App
A distinctive peculiarity of this development method is an opportunity to create a solution for both iOS and Android platforms. Excellent technology for this is Flutter.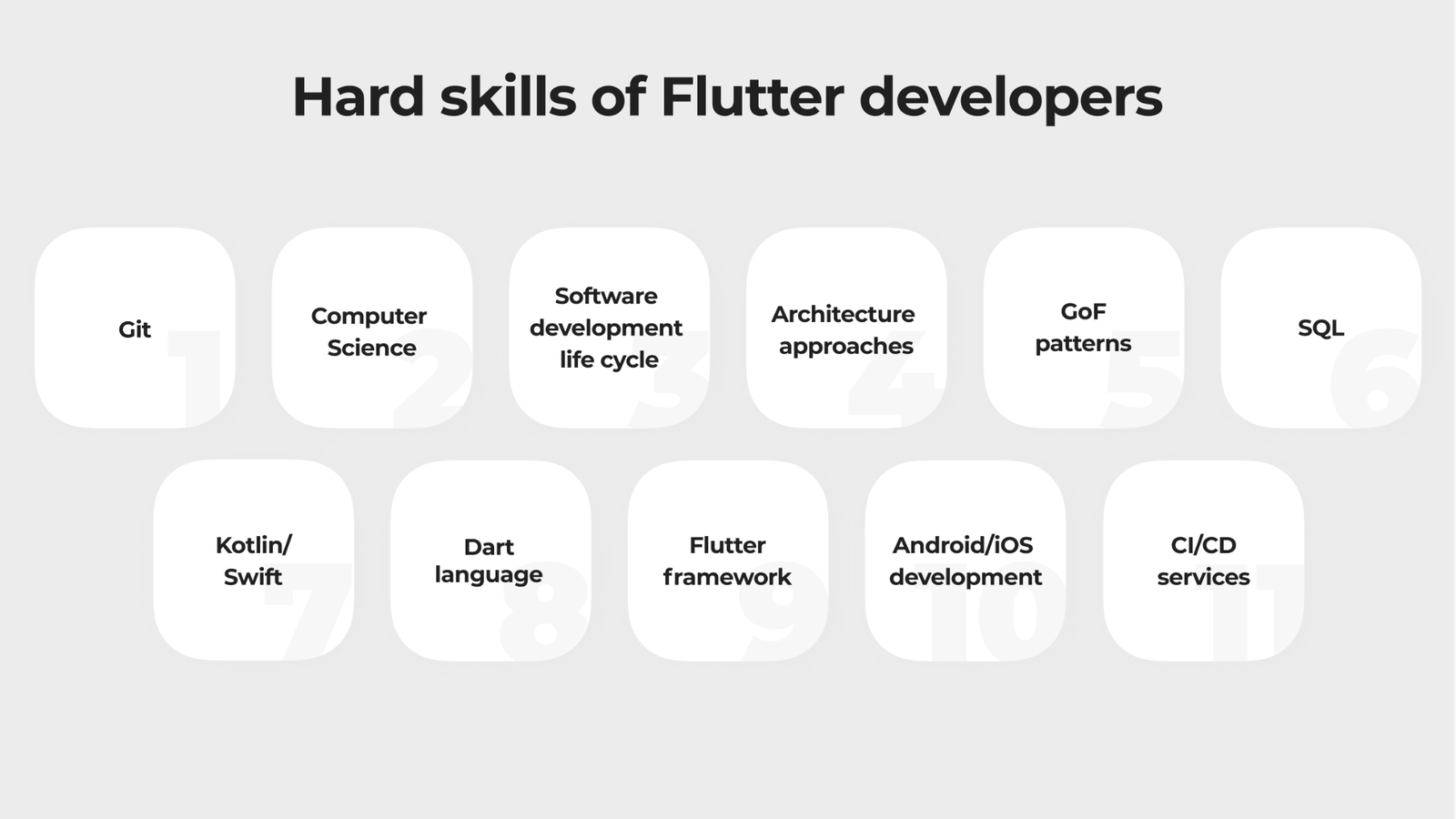 Portfolio And Case Studies
An efficient way to indicate the high experience of developers is to check their portfolio and see previous projects developed by them, including applied solution stack and all the arising challenges they've coped with during the development flow.
Rates And Reviews
Positive feedback from previous customers is a key to finding top-notch experts. The resources mentioned earlier have a section with verified clients' feedback, so you may check it or contact previous customers directly to find out more details about their cooperation experience.
Communication
There are three main factors that determine the quality of communication:
English Knowledge
To overcome misunderstandings during the cooperation, you should check regions with the highest English Proficiency Index (EPI) and search for partners according to it.
Time Zone Difference And Communication Instruments
To maximize productivity, you should note the difference in time. In addition, you should discuss tools applied to overcome this issue. The most efficient and handy are Slack, Google Meets, Zoom, and Skype.
Cultural Differences
Each country has differences in high-context culture (key context, sense, various tones) and low-context culture (unambiguity and clarity of message) worth paying attention to.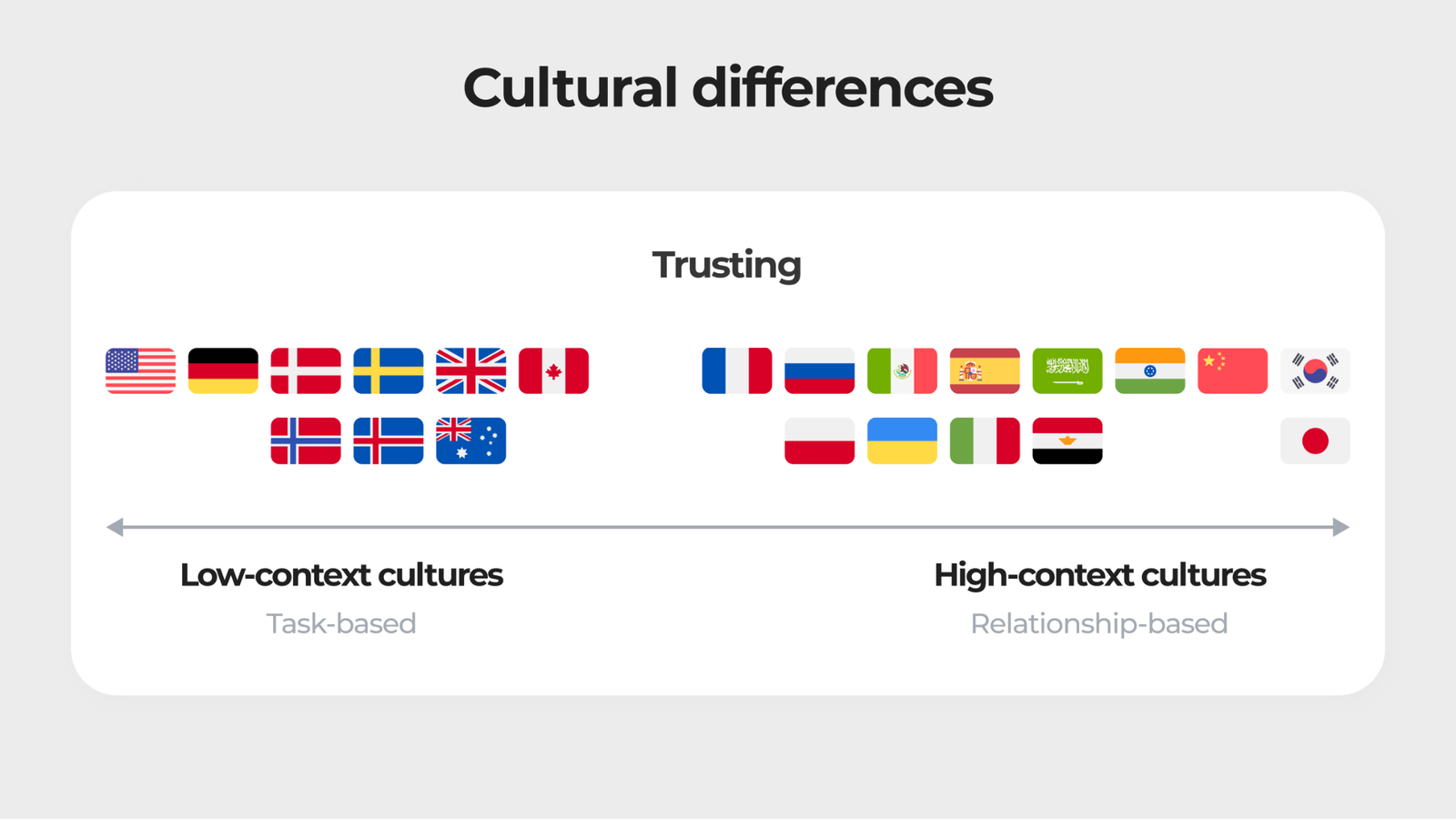 How to Hire Mobile App Developers Without Tech Expertise?
If you lack a tech background, you should apply to a competent consultant to verify the hard skills of potential partners. Yet, such interviewing services will require extra expenditures.
Regions to Hire App Developers
When choosing outsourcing to nearshore or offshore software development companies, you should search for trustworthy partners in countries full of experienced specialists. Here are best places to look for skilled app developers, mentioning hire app developer cost:
Eastern Europe
This region is the epitome of flawless performance and reasonable price, which is $25-$50 per hour. The high competence of app developers from this region, especially Ukraine, allows building the most sophisticated projects. Grammarly, Ajax Systems, and GitLab are well-known solutions built by specialists from Eastern Europe.
| | | | |
| --- | --- | --- | --- |
| Country | Hourly rates | Number of companies | Tech savviness by places (According to TopCoder) |
| Ukraine | $37 | 278 | 6th |
| Belarus | $28 | 95 | 7th |
| Romania | $26 | 103 | 11th |
| Bulgaria | $34 | 45 | 40th |
Western Europe
This location's advantages include the great expertise of IT specialists and beneficial conditions for IT business relocation. Hourly rates there vary between $70 and $150.
| | | | |
| --- | --- | --- | --- |
| Country | Hourly rates | Number of companies | Tech savviness by places (According to TopCoder) |
| The UK | $71 | 272 | 19th |
| France | $82 | 35 | 21st |
| Netherlands | $60 | 60 | 59th |
South America
Close placement to North America creates a small time difference between these regions. Due to a great advancement in the IT niche and affordable hourly rates, from $35 to $60, South America is an excellent option for outsourcing.
| | | | |
| --- | --- | --- | --- |
| Country | Hourly rates | Number of companies | Tech savviness by places (According to TopCoder) |
| Brazil | $51 | 112 | 18th |
| Mexico | $55 | 100 | 28th |
| Argentina | $55 | 104 | 26th |
| Chile | $50 | 31 | 33rd |
Asia
Despite the English Proficiency Index amounting to 492 and far situation from regions that often apply to outsourcing, the Asia IT market is full of beneficial offers. Talented app developers can provide you with high-quality services for $25- $30 hourly.
| | | | |
| --- | --- | --- | --- |
| Country | Hourly rates | Number of companies | Tech savviness by places (According to TopCoder) |
| India | $25 | 831 | 2nd |
| China | $25 | 49 | 1st |
| Vietnam | $28 | 68 | 9th |
| Philippines | $25 | 33 | 8th |
Wrapping Up
Choosing reliable and competent app developers is a challenging process that predetermines the success of your product. The platforms discussed above will help you find the best partners offering top-class services at a reasonable cost. Check out software development companies from our list of progressing IT hubs and hire great specialists who will build perfect applications meeting your requirements and deadlines.
Please Note
: This post may contain affiliate links. By clicking on these links you will not be charged any extra for purchasing goods and services from our preferred partners however flippingheck.com may receive financial compensation which contributes to the running of the site. For more information please read our
Advertising & Affiliate Disclosure Policy