If you're running your own business, the Christmas and New Year period can be quite a stressful time. You may be finalising your end-of-year accounts, maybe you make your biggest sales over the Christmas period, or perhaps you have a big January Sale. When all of this is over you'll need to make time for yourself to recharge and build up your strength and motivation for the year ahead.
Spring is the perfect time for this as you'll have settled in to your routine for the year and we're emerging from the dark and dreary winter days that can help you feel more motivated and have more energy. If you're looking to get away from it all then why not think about a surfing break? Surfing has some major physical, emotional and mental health benefits and you don't need to be super-fit to take part in it.
When it comes to spring though, it can be frustrating when the weather doesn't quite creep high enough to break out the wetsuits and head out onto the local waves. For that reason, thousands of surfers take to the sky and jet off to countless stunning destinations across the globe with much more favourable climates. If you're considering joining the rush in 2019, we've put together a guide to just a few of the key locations you could choose for your spring escape. Read on to find out!
Bocas Del Toro, Panama
Image Source: Where to stay in Bocas Del Toro
For consistency, Bocas Del Toro in Panama can't be beaten. When the rougher weather of spring battles the Caribbean Sea, Bocas tends to see a consistent swell that surfers can take full advantage of without shivering. The weather rarely ever drops below 70°F/21°C, so you won't be caught out when you least expect it. On average, you'll see temperatures of between 73°F and 83°F and with a variety of different wave heights and complexities, you'll be set regardless of your experience level. For a break from the surf, head into Panama City for a spot of shopping or to catch a bite to eat and if you're truly looking for something different, head to Casco Viejo, the historic centre filled with cobblestoned streets and plenty of bars and cafes.
Lagos, Portugal
Image Source: My Kind Of Place: Lagos, Portugal
While the north of Europe might still be donning hats and scarves as spring rolls around, Portugal tends to heat up relatively consistently into March, April and May. For beginners looking for some calmer waves in warmer temperatures, Meia Praia offers consistent, relatively predictable surf. Tonel, Beliche, Mareta and Zavial are also consistent surf sports, but you'll find bigger waves that require a bit more skill to navigate. For the seasoned surfer, Arrifana offers some world-renowned waves that will truly test your ability. Take a break from the waves in the old town, plentiful cliffs for scenic walks and even take a wander to see the Lighthouse – Lagos is truly perfect for a spring break.
Cabo San Lucas, Mexico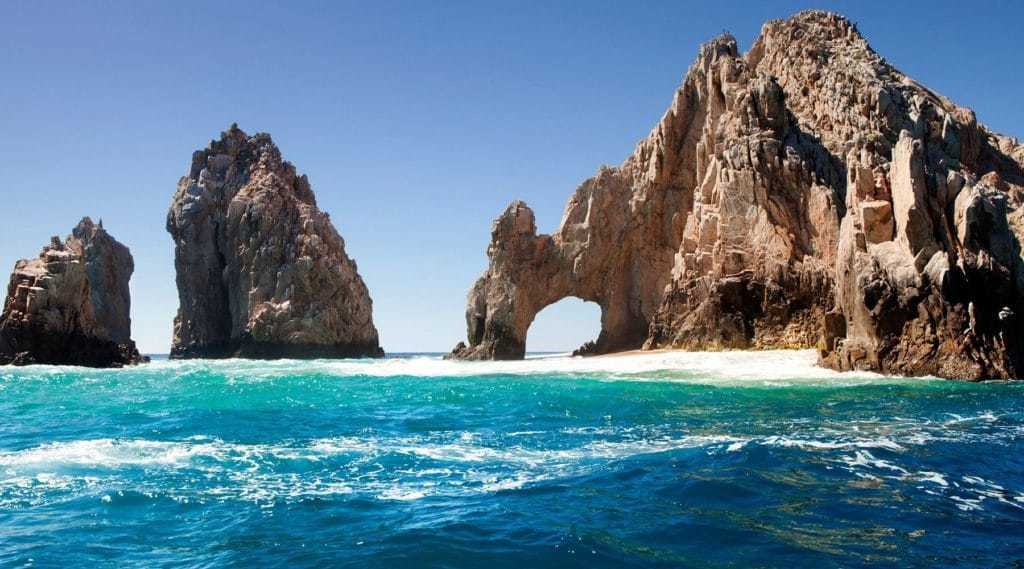 Image Source: Things To Do In Cabo San Lucas, Mexico
Cabo San Lucas is the spring break destination of choice for surfers and party goers alike and it's easy to understand just why that's the case. Regardless of your preference for wave height, swell or even the wind, there's plenty of different spots that offer every single one, most within a short drive from one another. The surf can be rough in bad weather, but for those days where the surfing just isn't advisable, the social scene certainly makes up for those empty hours. If you stay in a resort, most of them host their own events but venture out and you'll reach friendly pubs and other communal gathering spots to enjoy.
Cancun, Mexico
Image Source: A Week At The Beach In Cancun Mexico
Surfers that don't go to Cabo San Lucas during spring go to Cancun and once you've sampled the rich blue waters and the bustling nightlife, it's easy to see why. Also popular with spring breakers, you'll be met with a lively yet stunning holiday to remember. The waters are serene, offering a relaxing holiday throughout the entire year but don't let that fool you; these turquoise waters are also home to some adrenaline-worthy waves. There's plenty of swell that you can take full advantage of, but keep an eye out for Playa Chac Mool, Playa Delfines, Playa Marlin and Playa Ballenas for some of the best.
While the locations on this list are far from the only options for keen surfers, for a holiday in the spring to remember, they are certainly high up in the list. Where's your favourite holiday destination (and it doesn't have to be a surfers paradise!) – Let us know where we need to visit in the comments.
Please Note
: This post may contain affiliate links. By clicking on these links you will not be charged any extra for purchasing goods and services from our preferred partners however flippingheck.com may receive financial compensation which contributes to the running of the site. For more information please read our
Advertising & Affiliate Disclosure Policy