Hello all! Long time no speak!
Well, after two weeks off I returned to work refreshed and replenished – which is just as well considering the workload I had on. It didn't help also that I've had a really rotten cold for the past three weeks, which has just only decided to start letting up.
Also, I've been working quite hard behind the scenes and have finally published my first book – and before I hit 30 which was my goal – yeay me!
If you're interested (or just nosey) you can download a free sample chapter of "Managing Web Projects – How to manage the full project life cycle with minimum hassle" here or you can buy the eBook or paperback versions from Lulu.com. It's priced at $19.99 for the 128 page paperback and $9.99 for the eBook.
I have to say that I think deciding on the pricing was the most difficult part of the whole process! It's really hard deciding on what's over or under charging. After doing some research – which wasn't easy as there aren't too many books on the same subject or in the same niche – I think the pricing levels that I've come up with are pretty fair. Actually, it was a bit of an eye-opener to see some ebooks with less content selling for over $80 a time – I hope they're worth the money!
The process of creating the physical book was surprisingly simple, just upload your Word Document ot PDF and you're basically good to go. I ordered a proof copy (publishers get to buy their own books at cost rate) and I found that I didn't like the way that the chapters were laid out as some were starting on the left-hand pages which just didn't look right to me. So, I simply made sure that all chapters started on an odd pages and voila! One happy formatted book.
Another issue I had with the proof was the page numbering. Word's default settings are, to be frank, pants. You obviously don't want page numbers on the first few pages (where the inside title page, dedication, contents etc. are). After a bit of digging on the Interweb I found a handy little feature in word that allows you to alter page numbering. Instead of inserting a standard "Page Break" to force a blank page, choose "Section Break" instead.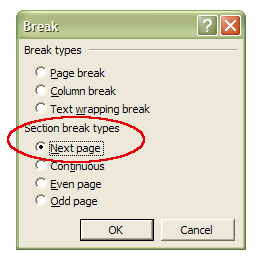 Section Break
This then allows you to separate headers/footers from the previous pages.

"Same as previous" and "Format Numbers"
You can then delete page numbers by selecting the header/footer and clicking on the "Same As Previous" button (ringed in red above). Restarting page numbering on another page is simple too. Separate the headers/footers with a section break, stick the cursor in the header/footer where you want the page numbers to restart and hit "CTRL+F9" two curly brackets will appear Within this, type
PAGE * Arabic
– The formatting and spacing is really important here – then right-click and select "Update Field" and there you go, page numbers!
What you'll find is that the first time you do this – on the page that should technically be page "1" of the book, it will still show the number of the page that you're on. Click on the "Format Number" button (ringed in blue above), then select the "Start At" and enter the value, simple eh?

"Start at" page number value
You can find more information on Page Numbering in word at the "WordMVP website".
I was pleasantly surprised at how quickly the books arrived. To be fair I did select the "Express" Delivery option but as it was only $6 more that the standard charge I thought it would be silly not to! I ordered the books on the Friday and they were printed and at my door on the following Wednesday – not too shabby considering they had to cross the Atlantic!
My one complaint is that Lulu.com doesn't appear to have affiliates functionality. It would have been nice to give people the choice to resell the book. I'm guessing the reason for this is to push you into getting your own ISBN so that you can sell the book through bricks-and-mortar stores and online retailers such as Amazon. I'm considering it but I'd like to sell a couple more copies first. Currently the price is $145 (approx. £70) for a batch of 10 ISBN numbers, which isn't too bad if you're planning on writing 10 books! However, at this point in time I can't really justify the expense – still it would be nice to see my book on Amazon, even if it only sold one copy!
Anyway, on to the Help Required.
I'm actually going to be cheeky and ask for two bits of help
Review my book – or linky linky to it please
If you would like a review copy of the eBook version, please contact me  and I'll gladly send you a free copy for a short (or long if you'd like) review. Plus, you'll also get a link back to your website from me in a post and a permanent link on my "Currently Reading" blogroll.
If you don't want to read it but would like to link to it, you can point everyone to http://www.lulu.com/content/1016987. Let me know and I'll mention you and your website in a post.
Help me with my next book
Yes, I now have the writing bug! Two of my most popular posts on this website since I first published them have both been on meetings, and it's certainly Google's most searched for term that bring people here. So, in light of this, I've decided to write a little (or big depending!) eBook on writing minutes and running meetings.
What you can do to help me: What I'd like from you is for you to share your Meeting horror stories with me – and there must be plenty out there!
I think one of the worst ones I've ever been in was when the guy who was presenting (yes, the bloke at the front of the room showing the rubbish PowerPoint presentation) fell asleep halfway through his own presentation. Hmmm. Obviously riveting then!
You can contact me or post a comment here. All "stories" received will get a link back to their "owner's" site in the book, a link here, and a free copy of the finished eBook/book.
So, there you go. That's what I've been up to…. not much really, eh?
Oh, prior warning. I'll be periodically begging for help with the meetings stuff – you have been pre-warned!


Please Note
: This post may contain affiliate links. By clicking on these links you will not be charged any extra for purchasing goods and services from our preferred partners however flippingheck.com may receive financial compensation which contributes to the running of the site. For more information please read our
Advertising & Affiliate Disclosure Policy