Spending money on decoration is something most people often avoid because of how much it costs to buy them. However, you can make some home decorations using simple, everyday items lying around your home.
You just have to let your creativity run wild and do some work.
Have Your Tools Ready
The first thing you need to do is to have your recycled materials and tools prepared. The right tools are important in order to create your decorations effectively. You will use tools like an electric staple gun, drill, hammer, and even paint.
Some decorations don't even need that many tools. However, it's better to have them just in case you get an excellent idea for home decors using such tools.
Compile Recyclable Materials
Gather all the unused items at your home. It could be old magazines, empty glass jars, or some broken pieces of furniture. Compile what you think will make a good decoration for your home.
Now it's all about what you want as aesthetics to your home. For example, glass jars can be used for flower arrangements or you can even use them for aquariums. Have them hang over the wall with the use of cable wires and some handle to hang them on.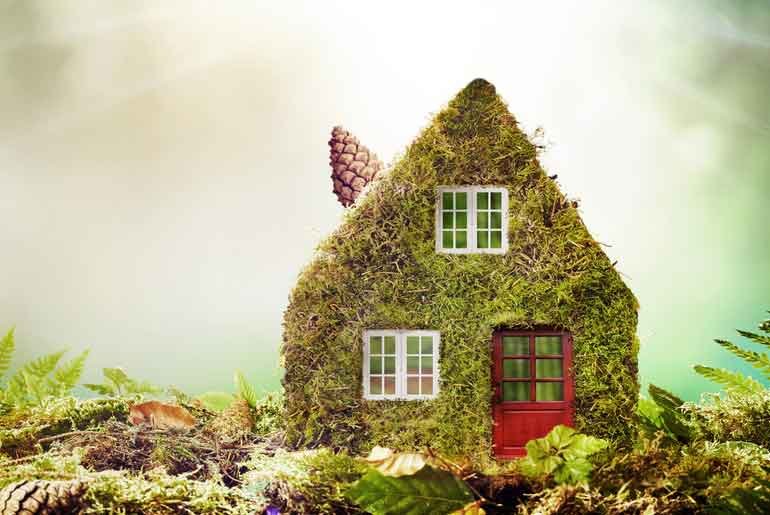 6 Key Elements Of An Eco-Friendly Home
Looking to go green and reduce your home's negative impact on the earth? Here are key elements and tips to achieve an eco-friendly home.
You can add some small unused plastic toys to add design to your glass jar aquarium and add some fish to it.  Make your home eco-friendly as much as you want.
Decoration Ideas You Can Try
Here are some home decorations you can try using recycled materials. Don't limit yourself to this idea and try to experiment on your own and make do of what materials you have.
Wooden Fruit Boxes
Wooden fruit boxes can be made into decorative shelves for your house. All you have to sand them for a better finish and install them at your house wherever you like. You can paint them to add color or keep them the same way for a vintage look.
Glass Mason Jars
Aside from being used as a small aquarium, glass mason jars can also be used as a candle holder. Just put some sands and stones inside as decoration with a candle in a metal tin in the middle.
You can place them inside the bathroom, in the living room, or in the bedroom. Turning the lights off will add more aesthetic effect to it.
Empty Cans from Canned Goods
You can use empty cans for a lot of things like a flowering pot or a pencil holder.
For a flowering pot, just put some holes in the bottom of the can using a hole puncher. If you don't have one, simply use a nail and hammer to punch a hole through it.
A pencil or pen holder is simple, just have it cleaned and use paint to add some colors and design to the can and it will become a nice decorative pencil or pen holder.
Broken Pieces of Furniture
You can use them to make a complex type of picture frame. Use broken pieces of wood to piece together a frame using some nails or glue to hold them together. It will give out a vintage look for your home.
Don't Spend More
Some people are too engrossed with making DIY projects that they often spend way too much when the whole point of home decors using recycled materials was to lessen the cost. Some people even buy the materials just for making home decors.
The only thing you'll be spending heavily on are working tools. They're not just for making home decors, since they can be used also for home improvement and maintenance.
Lessen the cost as much as possible. The main point is making your home sustainable with the use of recycled materials.
Conclusion
As long as you have the right tools and the time to do it, making home decors using recycled materials is fairly easy. You have all the necessary information and guide available on the internet to do it and make your home eco-friendly.