Marketing is always associated with organizations that aim to gain profit. However, that's not really the case at all. A good marketing strategy is also essential to nonprofit organizations.
Nonprofit organizations (NPOs) work hard to spread a cause among their communities. They do this by generating funds, volunteering, and addressing social concerns. Additionally, they gather support from donors and the community. Otherwise, they won't be able to spread their message successfully.
Nonprofits need to be well-known to retain volunteers, members, sponsors, funders, and other supporters. To achieve this, they should employ marketing strategies to promote their cause. Not only that but these strategies can prevent the loss of donations and shortage of volunteers.
To understand more, let's look at how marketing helps nonprofit organizations. Before that, let's discuss first what nonprofit marketing is.
Understanding Nonprofit Marketing
When nonprofit organizations make use of marketing strategies, it is called nonprofit marketing. They utilize marketing methods to interact with contributors and volunteers. Some of these include:
Promoting the organization and its message
Collecting finances
Increasing membership
Engaging volunteers, and
Pushing political or social change
While other nonprofits still use traditional marketing tactics, digital marketing provides more benefits. Our world is becoming increasingly digital. The days of handing out fliers around town are long gone. Traditional marketing strategies aren't as effective as they once were.
This is where nonprofit digital marketing came to be.
As more people engage online, maintaining an online presence is more vital than ever for NPOs. Putting together a nonprofit digital marketing strategy can help you stand out.
While digital marketing is an important tool for nonprofits, there are still challenges that they face. Nonprofits have limited time and resources. They don't have extra time for marketing since they have many contributors to contact and programs to conduct. Additionally, their responsibility to contributors to maximize every marketing dollar is also challenging.
Because of this, NPOs get help from other agencies to handle their digital marketing campaigns. Digital marketing agencies for nonprofits help these organizations in many ways, including:
Conveying their stories
Raising brand recognition
Building relationships, and
Communicating with supporters, clients, and funders
How Does Marketing Help Nonprofit Organizations?
One of the goals of nonprofit organizations is to spread awareness of their cause. Nonprofit marketing will help you ensure that your message reaches the right audience.
Your audience is those who use your services, are interested in volunteering, or are willing to donate. There are free marketing tools and services for nonprofits to keep your expenses low. Digital marketing agencies for nonprofits also exist to help you along the way.
Aside from these, below are other reasons to start making use of nonprofit marketing.
Those Backlinks Help You Build Authority
Creating a website for your organization is the first step in a successful marketing strategy. When people want to learn more about a firm, they will first go to its website. It's akin to having an online information gateway with all of your organization's information.
On the other hand, there are already millions of websites on the internet. To stand out from the competition and reach your target audience, you must establish website authority. Getting backlinks for your website is the most effective technique to do this.
To develop authority, you need to have useful and unique content on your website. Google favors your website when other organizations link back to your site. This implies that Google will give you a better chance of ranking higher in the search engine results pages (SERPs).
You have the option to build backlinks yourself. On the other hand, you can also hire digital marketing agencies for nonprofits to do the job. Just make sure that they offer link-building services.
Your Marketing Plan Helps You Attract Donors and Volunteers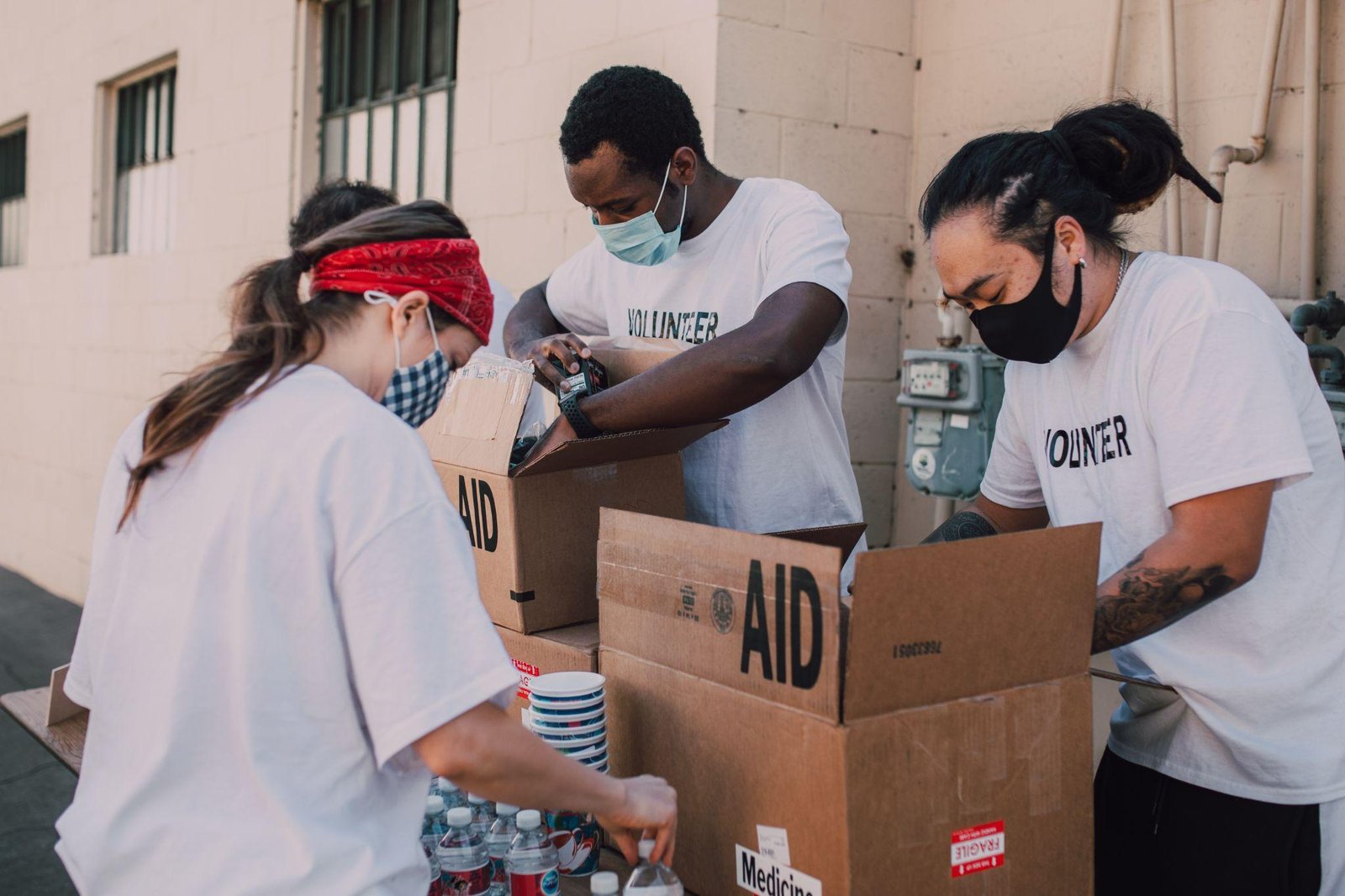 Photo by RODNAE Productions from Pexels
With so many projects at hand, you can lose sight of your organization's goals. Like businesses, nonprofits should keep in mind that they exist to serve stakeholders or clients. And by stakeholders, we mean donors, sponsors, and volunteers.
These people require encouragement to "purchase" what you're offering.
Operating a nonprofit organization is not entirely different from running a business. Volunteers help with the day-to-day operations. Donors and sponsors collaborate to generate money. Your organization's operations and income keep it operating. That's why, much like any business, you need a strategy to succeed with your goals.
Without a marketing strategy, you're setting your organization up for failure. Developing a digital media marketing plan helps take it to the next level. Additionally, it will help you attract more donors, sponsors, and volunteers.
Nonprofit Marketing Allows for Effective Communication
As a nonprofit, it's important to communicate the value of your cause. You need to be deliberate with your interactions with donors and the communities you're serving.
Aside from this, you should also communicate with them regularly. Otherwise, you might send them the wrong message. Since you're selling a cause, you need to be intentional in what you say.
Donors and volunteers are emotionally invested in many nonprofits. They are highly committed to the cause. As a result, you need to respect this by using the right words and content for your social media platforms.
Donors expect to know the details of where their money is going. This is especially true if they are contributing huge amounts of money. You can prevent them from withdrawing with some facts about how you utilize their donations.
With the best nonprofit marketing strategy, you can gain the trust and loyalty of your donors. As a result, they will be more inclined to donate and devote more time to your project.
Video Marketing Boosts Audience Engagement
Approximately 86% of organizations use video as a marketing strategy. This means that your video marketing approach can make a difference.
It's also important to consider how you'll use video in your nonprofit marketing plan. You have the option of making it a permanent post on your website. On the other hand, you can also create a YouTube channel for all of your videos. Furthermore, using videos in targeted emails can increase the click-through rate three times.
The most important thing to remember is to make videos that elicit powerful emotions in your audience. By doing so, they will feel a connection with the message that you're spreading.
Nonprofit Marketing Allows For More Reader Interaction
You can encourage users to return to your website with the use of retargeting. Most people browse the websites of nonprofit organizations and then leave without donating. Retargeting helps your organization in retaining such visitors.
After users leave your website without donating, retargeting efforts remind them of your services. As the name suggests, you can retarget users who have visited some pages on your website. Once specified, they will have a display of relevant visual or text ads when they visit other websites.
Google Ads, Facebook retargeting, and LinkedIn Ads are examples of retargeting platforms.
Nonprofit Marketing Increases Brand Awareness
Much like any other product, the more customers are exposed to it, the more likely they are to purchase it. Brand awareness is an important factor in the business world.
The nonprofit sector benefits from this same concept. By employing nonprofit marketing strategies, you can boost your brand awareness. As a result, more volunteers and contributors will be eager to provide their time and money.
Furthermore, increasing brand awareness helps you achieve your organization's goals and objectives. It can also help you expand your audience and increase traffic to your website.
A detailed and focused nonprofit marketing strategy helps your organization even with a limited budget. You can make use of Google or Facebook Ads for your marketing campaigns for a few dollars. Consequently, digital marketing agencies for nonprofits also help you with this aspect.
Get Started With Nonprofit Marketing
Marketing for nonprofits is an important part of running a nonprofit organization. Marketing techniques of a for-profit company and a non-profit organization differ. However, the concepts remain the same.
Customers exist in nonprofit organizations just like they do in any other business. To attract new "clients", your company should have a marketing plan tailored to your target market. You can also get help from digital marketing agencies for nonprofits. Once you have a solid marketing plan, you can now run your marketing campaign.
Please Note
: This post may contain affiliate links. By clicking on these links you will not be charged any extra for purchasing goods and services from our preferred partners however flippingheck.com may receive financial compensation which contributes to the running of the site. For more information please read our
Advertising & Affiliate Disclosure Policy