In time management, timeboxing allocates a fixed time period, called a time box, to each planned activity. Several project management approaches use timeboxing. It is also used for individual use to address personal tasks in a smaller time frame.
What Is TimeBoxing?
There are many software development (and personal development techniques that use a form of timeboxing as their main productivity tool. TimeBoxing:
Stops Procrastination and Perfectionism – because we only have a limited time on a task we can't put it off or keep on tweaking it until it's "just right"
Makes you move on to the next task – You don't work on a task until it's done, you work on it until your allocated time has run out.
Allows you to spread time and energy across multiple areas – You don't concentrate on that one thing you're "good at" or "like". It forces you to focus on the stuff that you'd rather put off or don't usually make time for such as physical health, mental wellbeing, knowledge.
Breaks tasks into manageable chunks – As you have a smaller amount of time to work on something you won't get bogged down in the minor details.
Allows you to see results quickly – In certain software (and personal) development philosophies time boxing allows you to release results in smaller chunks rather than one big release at the end. In terms of software and web development, this is very relevant. In terms of personal development it allows you to track your progress quickly and provides motivation.
Allows you to audit your time – This means that on future projects you can better estimate how long a similar task will take.
TimeBoxing focuses on the time you allocate to tasks, not really the tasks themselves. There is some element of prioritising required in order to set your day up, but due to the nature of TimeBoxing this isn't a key element of the technique.
Download your TimeBox planner now
How Does TimeBoxing Work?
Timeboxing, in the way that it operates, is very similar to the Pomodoro Technique where you work on a task for 25 minutes, take a break and then resume the task. The difference with Timeboxing though is that after your allotted time is up you move on to the next task on your list.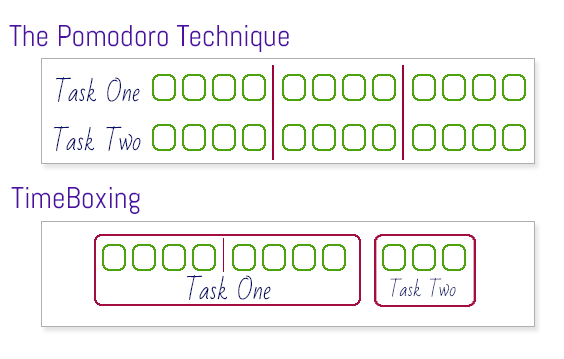 As you can see from the above example, the Pomodoro technique actually fits in well with Timeboxing and both techniques can be used together to make yourself doubly productive. And, as with the Pomodoro technique you don't really need any special tools just some paper to note down your tasks and a timer to help you keep track of time. You can though, if you prefer a more technological solution, check out my post on the Pomodoro Technique technique for a massive list of tools to help you keep track of tasks and time.
My Issue With TimeBoxing
There is one jarring aspect to the Timeboxing technique that I find hard to get along with and that's leaving a task unfinished and moving on to the next one, especially when you may be quite close to completion. Perhaps this is because I come from a programming background where, if you stop something mid-way through and try to get back to it the following day it can be difficult to remember what you have done and what you were going to do (or perhaps that's just me?!) Because of this, I suggest ensuring that you have a TimeBox at the end of your day for reflection on what you have done and what you need to the following day.
What Do You Think?
Will Timeboxing help you? Is there any real difference to the Pomodoro technique? Will it help you manage your tasks and your day any better? Let us know in the comments.
Get your free timeboxing download and read how to use it in my post "Free Timeboxing Planner"
Please Note
: This post may contain affiliate links. By clicking on these links you will not be charged any extra for purchasing goods and services from our preferred partners however flippingheck.com may receive financial compensation which contributes to the running of the site. For more information please read our
Advertising & Affiliate Disclosure Policy