Technology has become a huge and important part of our lives so it is not strange that kids have so many tech toys these days. Most of the toys are made to help your child with social interaction, logical development or simply to give them something to have fun with. Today I want to show you a list of tech toys for kids which will make you wish you were a kid.
Editor's Note: This article contains affiliate links. If you purchase an item through any of these links I will receive a small commission that helps fund running this site – you won't be charged any extra for your purchase. Please note that we are not responsible for the content listed in external links.
It is a stand for your iPad with legs, rods and scoring system, so it is basically a foosball table for iPad. I know I always wanted to play foosball when I was a kid but the tables were all too big for me! This gadget is perfect for kids. It provides them tons of fun on a small, light and simple to use foosball table which is connected to the iPad. But, I must warn you, if you start playing it, you won't be able to stop. The game experiences it through the roof and the table and iPad work like they are the same device. Magic!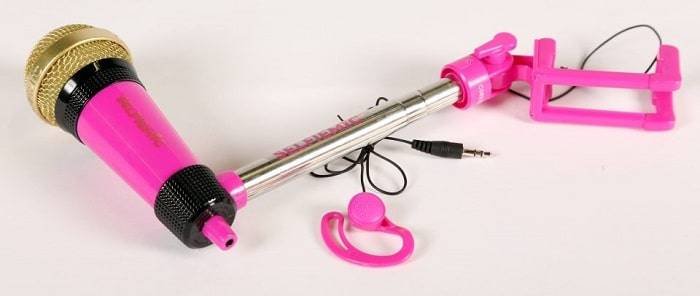 This is the perfect toy for girls (and boys) who love to sing, perform and just have fun! The gadget is basically Karaoke for your smartphone which is an awesome idea because it is extremely easy to store and carry around. We are all very well introduced with the selfie sticks but I must admit this is a really cool gadget which made the selfie stick interesting and actually useful.  The handle of the selfie stick is a microphone and your smartphone is the screen with lyrics.
Who says science can't be fun? This toy is an amazing present for kids who have already got a chemistry set for their birthdays! It's pretty impressive for a kid's toy: It can make your kid curious about the world around them. The microscope has 10x-50x and 230x magnification on the 640×480 pixel resolution. You can buy only the microscope or you can just buy the parts you need, the choice is entirely up to you.
This is a must-have toy for every kid who loves cars, racing, and speed.  I love the fact that this starter kit offers you the ability to build not one race track but 8 different tracks. But, how does it work? The tracks are actually magnetic and they snap together in a second so the assembly is pretty easy. You will control the cars with an app you have to download to your smartphone (iOS and Android compatible) and connect the app to the cars. After that, you are all set and let the race begin!
What would you do if you had the chance to build your own robot when you were a kid? I know I would do anything for that! This robot is easy to build using 6 smooth motion robotic servos and more than 270 snap-together parts. You can download the app which can guide you into building your robot with ease and after that, you can program it to walk or even dance. This robot is a great way to introduce your kid into the world of coding and robotics in general.
Now, do you want to be 10 again?
Featured Image: Photos provided by author
Please Note
: This post may contain affiliate links. By clicking on these links you will not be charged any extra for purchasing goods and services from our preferred partners however flippingheck.com may receive financial compensation which contributes to the running of the site. For more information please read our
Advertising & Affiliate Disclosure Policy