Subtitles are a great way to reach many audiences without any language barrier. Users from different parts of the world can now get along with your content and understand every single word through subtitles. If you ever wished to get a free video to text converter, Subtitles Love is here. It offers AI-powered subtitles in a different language for different video types. Moreover, Subtitles Love is an auto subtitle generator where you can resolve all your needs for subtitles.
The best thing about this Video to text converter platform is that it works on all devices. You can use it anywhere and anytime without inconvenience. It's a free platform, but you have to buy a subscription package from Subtitles Love which are available at reasonable price for a premium. Subtitles Love comes with its own editor where you can customize the font style, change the aspect ratio or add a touch of your creativity for better results.
For professional video creators, Subtitles Love allows you to create subtitles compatible with different platforms. It also comes with many options to set how you want your subtitles to look. With fast conversion speed, better translation results, customizing options, and overall fast process, all your requirements for subtitles ends here with Subtitle Love.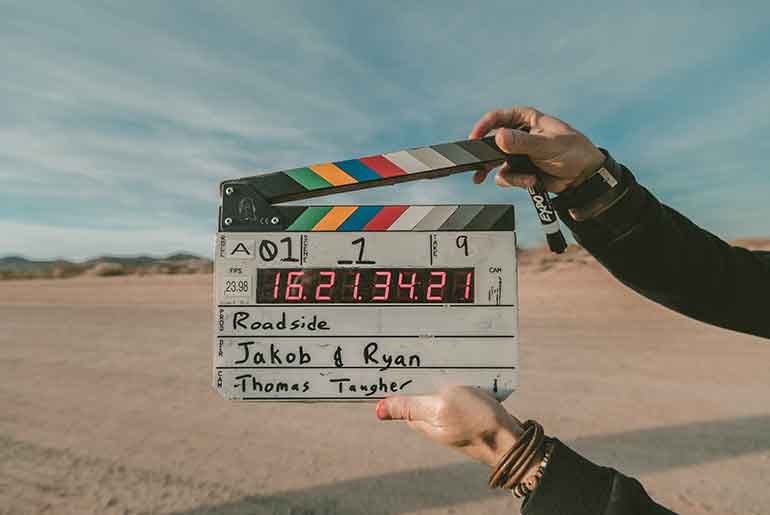 Image Source: Jakob Owens on Unsplash.com
Free Online Video To Text Converter
Subtitles Love is all you will ever need to add subtitles to your videos. With the help of this app, you can convert all standard media files into text in one single step. It has both translation services and auto audio synchronization tools. In addition, Subtitles Love has a separate workstation where you can forward the step-by-step editing and verification of your subtitle texts. The application is designed so that it generates subtitles only when paired with a video file in the language of your choice. The program is so user-friendly that even non-technical users can easily follow the instructions to add text to their content without any technical skills.
Adding Subtitles For YouTube And Facebook Videos
Subtitles Love is your ultimate subtitle helper for every video type, including YouTube video and Facebook video to text converter options. Unlike other similar apps, this one does not require much effort to convert the text. With the power to do tasks like auto-translation and AI-enabled text generation, Subtitle Love contains everything. Now you do not need any other third-party tool to complete the task of creating or editing subtitles for your videos.
Subtitles For Facebook Videos
Facebook videos are not a little movie but a dictionary to teach us important things and give the best advice. To make a better impact, you need subtitles to add value to your content that would otherwise be unintelligible without them. Generally, video on Facebook supports an aspect ratio of two types: square (1:1) and vertical (4:5, 9:16 & 16:9). For Facebook stories, the aspect ratio changes to between 9:16 and 1.91:1. Based on your Facebook video type, you need a facebook video to text converter online free and attach supporting format of subtitles file. However, with Subtitle Love, you can add subtitles in different formats as per your requirements.
Subtitles For YouTube Videos
Subtitles play a vital role in providing a better understanding of the language for your audience and work great for the video to text converter youtube. You can impress your YouTube audience with valuable information they need. YouTube videos are generally offered in a format of 16:9 aspect ratios to support full-screen streaming. The new concept of YouTube shorts supports 9:16 ratios. For YouTube videos, Subtitle Love also lets you attach subtitles in square or vertical aspect ratios.
Subtitles For Live Video Streaming
Today people are so much concerned about live streaming on social video platforms. Live video streaming is a very important topic and an opportunity to spread knowledge or informative things and make us aware of certain things within a short time frame. Subtitle Love is here to help all the professionals who add subtitles for live streaming. You will never face any trouble while editing subtitles for your live video streaming content.
There is no limit to video types and supported subtitle formats at Subtitle Love. You can get unlimited subtitle options on your videos with supporting format and style, and font design.

Image Source: Wahid Khene on Unsplash.com
Step By Step Process Of Adding Subtitle With Subtitle Love
Subtitle love is an esteemed and highly recommended platform for adding subtitles in different formats. By offering subtitles in different languages, you are finding a potential viewer base for your videos. Choose a subscription package as per your requirement and start with auto-generating texts for your videos. Here are some of the steps you will be going through in this process:
Start with Uploading your Video
Once you are on the homepage of Subtitle Love, you will come across the option of "Add File." Just pick and drop your file here. After loading for a few seconds, it will be uploaded.
Pick Your Language Type
You will choose your desired language to get the best out of it. If you want to go with the auto-translation method, select "Latin" as per your requirement.
Add Your Subtitle File Format
Now next step is to choose a format for your subtitle file. It has separate options for PNG, AVI, and others.
Customize Your Text
Once you are done with the subtitle file format, move on to the customization section, where you can add various text elements in the form of the text box, bullet point, or YouTube link box, depending on which one is appropriate for your video type.
Add Subtitles
Here is the last step, where you have to add your subtitle to your video and preview it. Once done, you can now download the SRM file for your subtitles and use it as your choice. If you need subtitles in another language for the same video, just repeat the process and choose your language type.
What Are The Other Features Of Subtitles Love?
Subtitles Love has many features that can help you improve the quality of your videos on social media with mp4 video to text converter options. Here are some of the useful features of this app:
Automatic Speech Recognition (ASR) And Text To Speech (TTS)
Subtitle Love offers an automatic translation service for all subtitles it generates for you. It makes your video content more intelligible and easily understandable for your audience.
Editing Subtitles With Stylized Fonts
Subtitles Love lets you edit subtitles by adjusting the text's font, design, and style before publishing them on social media. Using real-time translation ability, you can take feedback from the users and improve the quality of your subtitles each time.
Generate Your Videos With Live Translation Service
With Subtitles Love, you can now get a real-time translation service for free to add subtitles to your videos instantly whenever needed in any language as per requirements. This can help you add subtitles for live streaming on Facebook and YouTube.
Sharing Without Any Limitation
Subtitles Love does not limit you to the number of subtitles you can add to your videos. You can generate as many subtitles for your videos as per your requirement and start earning from them accordingly.
What Makes Subtitles Love The Ultimate Choice?
Subtitles Love is one of the most trustworthy names offering futuristic auto text generation tools using AI technology. It is highly recommended for professionals and beginners to easily add subtitles to their videos. The user interface and the complete process of adding subtitles here are simple. Few key features that make subtitle Love the ultimate choice include
It supports a wide variety of languages for every video type. You can even use it as an arabic video to text converter in the English language.
Subtitles Love offers auto-translated subtitles in different formats like AVI, MP4, FLV, MPG, and others. Irrespective of the video format, you can get subtitles in every type.
Subtitles Love lets you edit your subtitles for a professional look. You can easily choose from different fonts colors and add text boxes, video links, and more to get the best out of your subtitles.
Easily work on multiple languages at a time. For example, you can easily add subtitles and generate them in different languages simultaneously.
You can now get all your subtitles in one place with subtitle love. It takes only two steps to get any type of subtitle as per your requirements with the help of this app. You do not need to go through different websites to fetch subtitles for your videos or spend too much time making them. With different format support and customizing options, you are surely getting professional-grade service with Subtitles Love.
If you love creating or editing subtitles for your videos, do not delay getting yourself a Subtitles Love subscription package now. Just go through this page to know more about the feature-packed service. Subtitles Love is a revolutionary platform that will help you add subtitles to your videos without any hassle of processing files and editing.
Please Note
: This post may contain affiliate links. By clicking on these links you will not be charged any extra for purchasing goods and services from our preferred partners however flippingheck.com may receive financial compensation which contributes to the running of the site. For more information please read our
Advertising & Affiliate Disclosure Policy