Ralph Waldo Emerson was an essayist and poet who was a member and leader of the Transcendentalist movement of the mid 1800's.
The Transcendentalist believed that people and society were at their best when they were being self-reliant. I personally think this goes against the nature of a true community (as in helping your neighbours and looking out for people other than yourself) but I do agree that we need a degree of self-reliance in order to function and do well at work, at home, in our community and relationships.
I have to admit that whilst I know Emerson's name and some of his more famous quotes I'm not overly familiar with his works but you can read more about him on his Wikipedia page.
This month's free wallpaper download is a quote from Ralph Waldo Emerson that I think lends a lot of positivity to our lives and thoughts. Books like The Secret by Rhonda Byrne (affiliate link) talk about the fact that a positive attitude leads to positive results and I do believe that to a certain extent so this wallpaper is here to help you think in a positive manner and remember that our mental think will have an outcome on what we seek.
The photo used for this month's wallpaper was taken by me on the 18th of July at the last full moon – we finally had a clear sky!
You can download this month's free motivational wallpaper by right-clicking this link and choosing save as or right-clicking on the image below as selecting "set as wallpaper"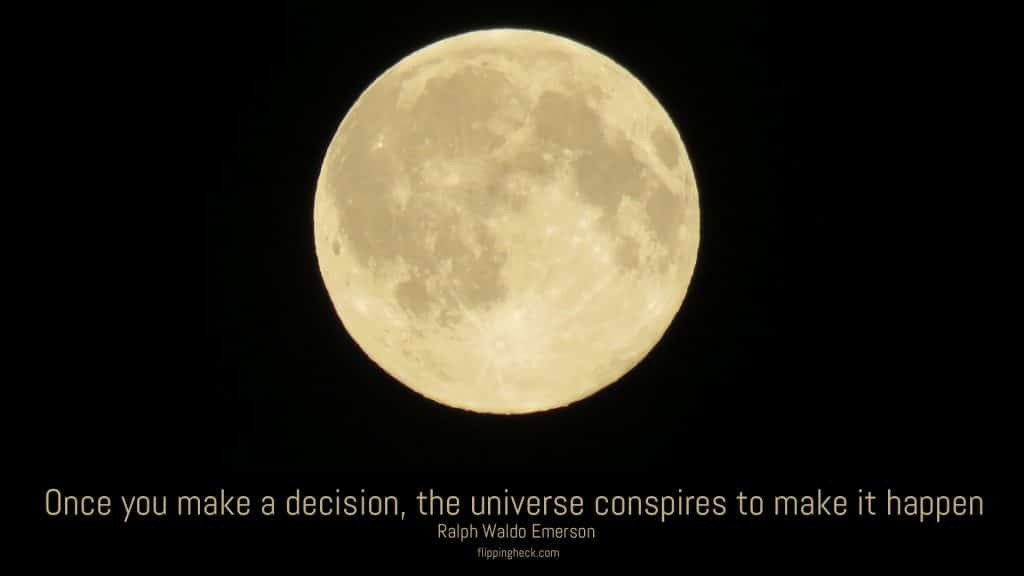 Please Note
: This post may contain affiliate links. By clicking on these links you will not be charged any extra for purchasing goods and services from our preferred partners however flippingheck.com may receive financial compensation which contributes to the running of the site. For more information please read our
Advertising & Affiliate Disclosure Policy