In this article from our Spring Cleaning Challenge Series we're going to be looking at organising your recurring and time dependant tasks.
If you have been following along with the series you should have completed the following tasks:
This week we're going to be taking the organising phase a step further by doing a second "mind dump" but this time we'll be looking specifically at tasks that may be recurring or have specific start or end dates.
Some of these tasks may be on your original mind dump sheet, they may be in your calendar already or maybe you keep a stack of papers that need to be actioned. Whatever your current tracking method, for this step you need to find all of these tasks and write them down on a Mind Dump Sheet, making sure that you note down the start, end or due dates. If you need to download a mind dump sheet you can click on the link below.
Once you've gone through all of your date dependant tasks you can then start to put them on the Monthly Task Calendar – you don't really need to organise these tasks into categories as we're more concerned about when the task is due rather than the category of the task.
What Is The Monthly Task Calendar?
The Monthly Task Calendar (M.T.C) allows you to list all of your time dependant tasks and helps keep them away from your main appointment calendar.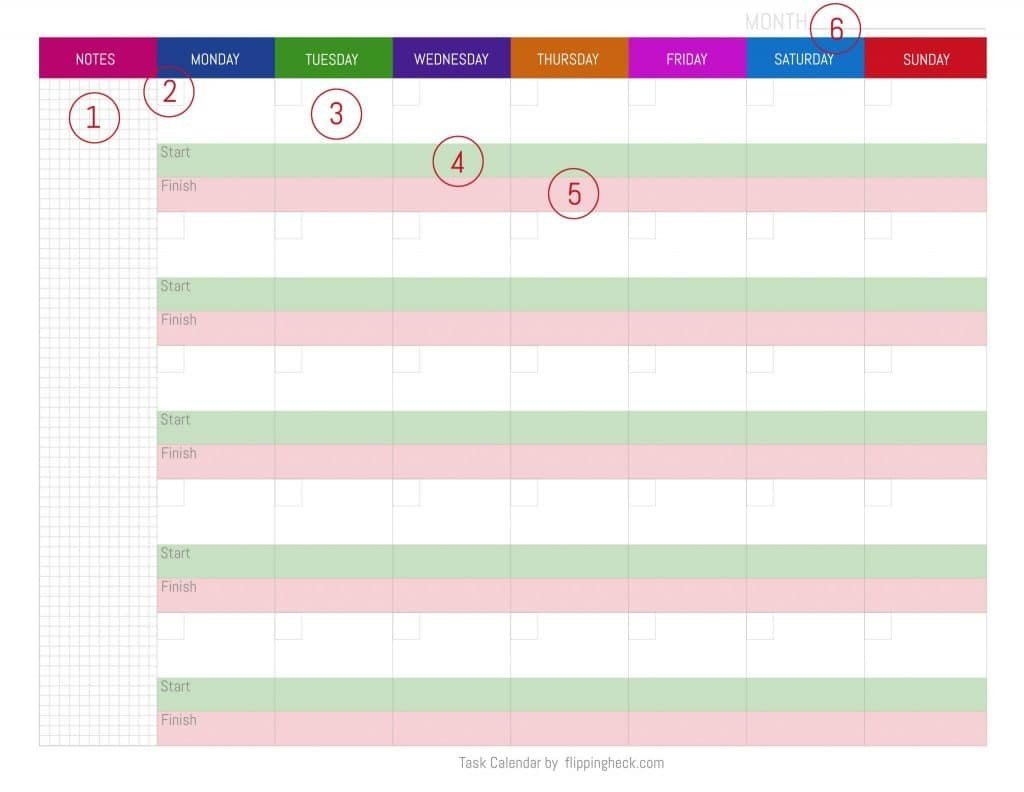 There are six parts to the M.T.C
Notes Section – You can put any notes for the month here, they may be general notes or notes relating to specific tasks.
Date Box – The M.T.C is undated so you can use it for any month and year. Put the date in the box to keep track of where you are in the month.
Date Square – Use this space to write in general tasks for example "Car Insurance Due", "Pay Credit Card" etc.
Start Section – If you have a task that needs to be started on a specific date, write it in this section
Finish Section – If a task needs to be finished by a specific date, write it in this section.
Month Section – Write in the current month for the M.T.C here.
I would recommend printing off at least 12 months for the M.T.C – more if you have longer-ranged tasks that you want to organise.
Why You Shouldn't Use Your Main Calendar For Tasks
In David Allen's Book "Getting Things Done" (affiliate link) he is very clear that only Hard-Landscape items as he calls them go on your calendar.
Hard-Landscape items are those that need to be done on that date and by that time, these aren't arbitrary false deadlines that are pulled out of the air, they're hard and fast deadlines that need to be stuck to.
So how are "hard and fast" calendar dates different from general tasks with a date attached?
Think about it this way: You have a project that's due by the 15th July, if you don't finish it then you're fired. I'd class that as a "Hard Landscape" item and as such it should go on your calendar.
Alternatively, if you have a blog post to write that could go out sometime in May, June Or July then that's a flexible item and should go on your to-do list under the "Blogging" category as it's not a fixed item than needs to be on a calendar.
A calendar should be used for tasks with dates attached to them rather than a reminder that something needs to be done. The problem with putting reminders in a calendar is that it soon becomes cluttered and if you decide (for whatever reason) not to complete a task on the day it's scheduled you need to mess around with crossing items out, or remembering to move them which can make your whole calendar look messy and make it difficult to keep track of what you have and haven't done.
The Power Of Start Dates
A lot of importance in project and task management is placed on End dates. When you have to get a task done lends a sense of finality to a project. What's usually forgotten is working out (and scheduling) a start date. If you know when a task is due, and you know how long that task will take you can back-track and create a start date for the task which will enable you to keep you calendar clear so you can complete the task.
If you don't figure out at least an approximate start date for a task – even if you know how long it will take – you're more likely to leave everything to the last minute and end up in a mad panic just before the task is due for completion.
Other Date-Based Task Organisation Tools
There are a couple of ways you can keep your date-based tasks in order if you're not happy with them going on your calendar.
Tickler File
Within his "Getting Things Done" methodology David Allen advocates having some form of file (box file, in tray – whatever works for you) where all upcoming items are collected. Whilst a tickler file can be part of the 43 folders system (see below) it can also be used as a standalone system too. If something needs doing in the next (x) days then a note is put in the tickler file. This allows you to remember that certain tasks need to be actioned.
The issue with this system is that it relies on you keeping items in your box in some semblance of order so you know what needs doing when.
43 Folders
I was going to go into great detail about how the 43 Folders system works but then I found this video – they say a picture is worth a thousand words and this explains it perfectly.
Over To You
How do you manage long term tasks? Do you put everything in your calendar regardless, or do you keep date-based tasks off your calendar and in another system? Let us know in the comments.
Please Note
: This post may contain affiliate links. By clicking on these links you will not be charged any extra for purchasing goods and services from our preferred partners however flippingheck.com may receive financial compensation which contributes to the running of the site. For more information please read our
Advertising & Affiliate Disclosure Policy