There's a Meme going on over at "Getting Things Done" about your "Killer" GTD setup. I'm probably a little late to join in (hey, I'm late for everything – it's expected of me!) so I thought I'd use it as the kick in the backside I needed to write about me and my Moleskine which I was meant to do ages ago (did I mention I was always late?). So, here it is, my "Killer" GTD setup!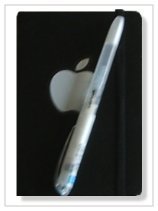 My Moleskine and Uniball Clear rollerball
You Might Want To Check Out My More Recent Articles
How I plan to "Get Things Done" In 2017
Since my first post on my "
Getting Things Done
" Routine in 2006 I've been slowly working on revising my system so here's how I manage my task and diary items.
How I Plan To Get Things Done In 2018
Each year I revisit my previous year's productivity system and take a look at what worked, what didn't and how I'm going to improve on it in the coming 12 months. This year I'm moving away from A6 notebooks and am going to be
What's all this fuss about Moleskines, they're just notebooks right?
Well, yes.
And no.
I don't know what it is a about the Moleskine exactly but there's certainly a big following for them and Wikipedia can probably explain them better than I can.
There's just something about the quality of the manufacturing, paper type and cover that makes you want to write in them. I'd previously tried many different types of notebooks and capture tools but the Moleskine is the only one that I've really stuck with (over a year and counting!).
You write it all down in one notebook? Doesn't that get confusing?
Not really. I've written before that I don't really get on with the whole idea of "Contexts" within GTD as David Allen describes them. I'm either at a computer or I'm not; I always have a phone with me; and being a web developer (and blogger) means that 90% of my work is done at a computer which is either "At Home" or "At Work".
I'd tried using a filofax before with different context sheets from DIY Planner but it was just too bulky and I couldn't really carry it about with me anywhere. When I got my Moleskine I initially toyed with having sections (or "Context" areas if you will) for work, home, blogging etc. but it would mean that I'd have to make a point of checking specific sections to see what needed to be done and I've always been better organised if everything is mind-dumped into one list.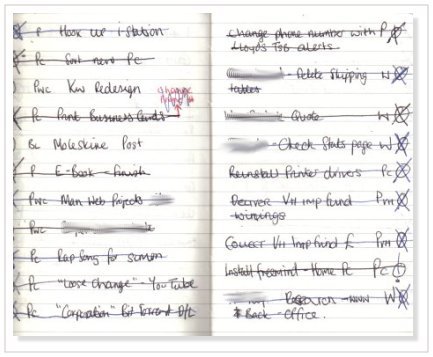 List of Actions In my Moleskine
In order to not confuse myself (which is very easy) I came up with a series of codes I could put next to action items that would enable me to do something in my current "context". The codes used are:
W – Work
P – Personal/Home
C – Computer
L – Letter
E – Email
T – Telephone
B – Blog
VH – Village Hall
So, if I needed to call "Bob" about a project I was working on the entry in my Moleskine would read:
Or if I wanted to blog about something the code would read:
Although sometimes I do shorten the codes if I've written a context into the action. You can see a close-up of some of my (completed) actions below: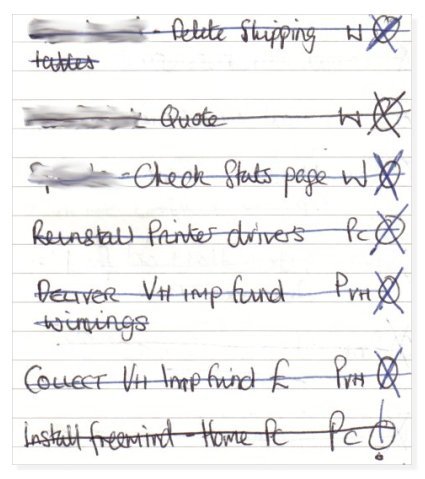 A close-up of my action list
At the end of each item I put a circle if it's an "Action" or a triangle if it's "Waiting for". If an item is completed, it's marked with a "X", if i've decided not to do it for some reason it's marked with a "!" and if I've deferred it, it's marked with a "?"
That must get riduculous with projects as they have too many actions!
Well, yes, I did discover that. It was impossible to track multiple actions by project using the above method unless I gave each project a code (confusing) or put them on separate pages (waste of space) so I came up with my "ktGTD Project form".
The form is constructed so it slips nicely into my Moleskine and breaks down all of my actions for a give project. The project itself is added to main list in the Moleskine:
An example ktGTD Project List
I can then refer to each action and mark the status as necessary without cluttering my main action list. Occasionally I will need to block out periods of my day for calendar items such as meetings and for this I use my ktDPlan form (seen here with the ktGTD form):
the ktDPlan and ktGTD forms
ktGTD – Projects/Actions with a Moleskine
It's all well and good organising your tasks... but are they truly organised? the ktGTD aims to help you manage your tasks in a way that helps you get them done!
Managing your time and procrastination levels with the ktDPlan
If you're trying not to procrastinate then the ktGTD plan may help you figure out what you have to do and when.
That's all well and good, but what about your calendar items. I can't see them anywhere!
You won't! Calendar items are stored in two place, my Work PC using the lightning add-on in Thunderbird and my mobile phone (or cell phone for some of you!).
Both calendars contain all of my work/home appointments. Currently these are entered separately as there's very poor syching support for Lightning at the moment but there are a couple of solutions I will be looking into although I have to be careful as my Work is funny about what you install!
I have my mobile with me most of the time so it's quite easy to dump any calendar based items in it and set a reminder. I did toy with an "old fashoined" paper based calendar but it was a bit too bulky to carry around and my phone is so much easier to use  – plus it beeps at me to let me know I need to be somewhere!
For those that are interested, my Phone is a Nokia 6233 on the T-Mobile network. The 3G access is pretty patchy where I live (being a country bumkin and all) but the standard internet connection is pretty fast and I can view my emails via the web or the in-built email client which is quite handy. Although I must admit if I'm not at my computer I really don't want to be reading emails!
Well, it all seems pretty complicated to me!
Not really. When you put everything together it's really quite a small – and I think simple – setup for GTD. I know some people swear by their 43 folders (or Tickler file in GTD parlance), or use online tools to manage their lists but after trying all of these a simple notebook, pen, a couple of print outs and a phone is all I need to manage everything. Pretty neat I think!
My Complete GTD System – Minus the pen!
Considering I'm a fanatic of PCs and the internet, there's just something about using a paper-based system that I love and it would seem that a fair few of you feel the same judging by the current poll results (check out the sidebar on the right for your vote – or RSS readers, please vist the website to vote)
So, how about you. What's your "Killer" GTD system?
And you can read about other bloggers GTD system at the GTD Meme's follow-up page – they may give you a few useful ideas!