Hello there! Welcome to another post in the "Autumn Cleaning Challenge" series. If you've not been following the series so far you can catch up here and read up about the history of Spring Cleaning, view my "What Needs Cleaning When" Infographic and 17 hacks to make your life easier.
In this article for your first "Challenge" proper we're looking at how you can make your office and workspace more organised.
Just so you know that I'm practising what I'm preaching I've started to organise my office space – here's the proof of the work in progress:

What a tip eh?! By the time it's finished it'll hopefully be super-duper organised and I'll be able to find anything without too much hassle.
One thing I am struggling with during my "decluttering" is that I'm finding it quite hard to get rid of certain things. Over the years I've amassed quite a large CD collection which I've now digitised so I don't really need the original discs any more.
My problem was that seeing all of these CDs together was a reminder of the massive amount of money I've spent over the years on special editions and imports so I don't really just want to throw these out, I want them to go somewhere where they'll be appreciated. If I was to follow Marie Kondo's advice in the "The Life Changing Magic Of Tidying Up" I'd get rid of these items without a second thought as whilst they mean something to me, they don't necessarily spark the prerequisite joy that Kondo requires in order to keep them. I did see how much they'd be work through one of those services that pays cash for old CDs but some of the special editions were so low-priced it wasn't worth it and it was going to be a pain in the backside to sell them individually on ebay so I've decided to cheat a bit by boxing them up and putting them in the loft – out of sight, out of mind!. I now this goes against most of the tenets instilled by most organisational gurus but I'm only human okay! If you have any suggestions as to what I can do with these CDs please let me know in the comments!
My shortcomings aside, here are some great ideas to help you get yourself organised in your office space at home and work.
These tips are really simple, won't break the bank and will keep all of your rubbish off your desk and tidy.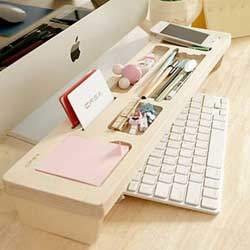 The keyboard shelf in the article (shown above) links to a Korean website but you can find a similar above keyboard shelf from Amazon.com here (affiliate link) for a reasonable price.

If you're pretty handy at DIY or just don't really want to spend a great deal of money check out these tutorials for simple and cheap organising tools. The Cardboard desk tidy looks great but unfortunately there are no full plans.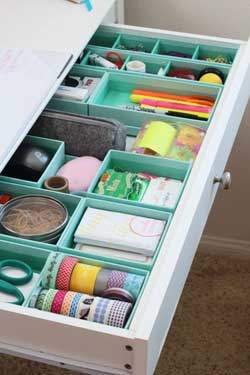 There's a nice list of organisation tools here from binders and folders to office drawer organisation (check out the original post at Modish & Main for more photos and a link to the products)

This post contains some great ideas for organising your whole office from folders & Shelves to taxes and random paper clutter.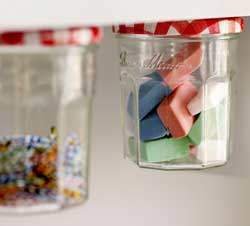 You might think that using jars for organising only has a place in the garage but they're useful for office supplies too. Check out Curbly for the original post and more great tips.

The Lifehack post also has some great ideas for drawer organising with cereal boxes. I've used cat-food and washing tablet boxes for mine (see image below) as they're a bit sturdier and just the right size to hold pens, although I've yet to cover mine in pretty paper yet.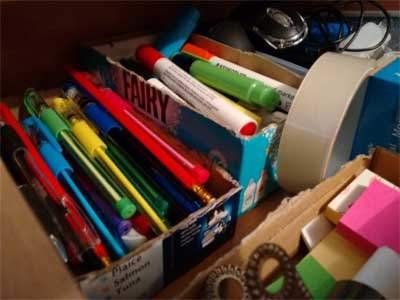 Who says your desk has to be dull and boring? Sprucing up your desk can help you inspiration and productivity so check out these 10 tips to help you pimp out your office space.

You can also check out 14 stunning study areas that are basically desk porn from Cosmo for more ideas.

Staying with desks, this article has some nice ideas such as a DIY bulletin board that you can make to fit any odd-shaped area.

If you want to harness the power of chi to make you more organised and productive you can use this post to figure out where you need to put your desk and what the correct placement for certain items is.

Re-purpose kitchen items to help organise your office

A really simple solution that doesn't need any glue, I must make this one!
Over To You
Do you have any neat office storage solutions I should take a look at? Or maybe you have an idea what I can do with my mountain of CDs – let us know in the comments and Sign-Up for my newsletter to stay up to date with my Autumn Cleaning Challenge Progress.
Other Articles In This Series
Autumn Cleaning Challenge: Challenge 1 – Office & Desk Organisation
Featured Image:
Michael Coté
Licensed Under Creative Commons via Flickr
Please Note
: This post may contain affiliate links. By clicking on these links you will not be charged any extra for purchasing goods and services from our preferred partners however flippingheck.com may receive financial compensation which contributes to the running of the site. For more information please read our
Advertising & Affiliate Disclosure Policy