Google Inbox was released in October 2014 as an invitation-only Android and IOS app, getting an invite also allows you to access their web interface as a replacement for Google's traditional Gmail offering.
I think the whole idea behind invite-only apps and services is to generate a buzz around a product that, if released into the wild normally, wouldn't necessarily get the market share or attention that the developers want. That being said, limited roll outs do allow developers to scale their products accordingly and release bug-fixes and new features based on user feedback which they may not be able to do so quickly if their product was available to the general public.
I was lucky enough to get hold of an invitation to Inbox during their recent open-invitation event and it thought I'd give it a try for a month or so before reviewing it, so here are my thoughts on Inbox after a month or so of use.
The Good Points
It looks really good
Google keeps playing with the looks of the Gmail app bringing it into line with their new material design aesthetic but Inbox has several nicer features that Gmail has yet to gain.
You get an attachment preview within the excerpt of the document in the inbox which is a nice feature, you no longer have to open and scroll to the end of an email to get to the attachment.
Read emails in the inbox
In the web interface, clicking on an email subject slides the email open to reveal the contents in the inbox, no having to click though to a different page to view the contents. This makes scanning through emails to see what to do with them a really quick job.
Reminders
You can set reminders up against each email, these are then listed under a reminder section in Inbox. This is useful if you need to remember to add something when replying to an email.
Pin Emails
If an email is important, you can pin it to your inbox. This means that it's available even when filed under a label at the click of the button. This is similar to Gmail's "Starred" feature but you can only see starred emails in your inbox if you enable the "Multiple Inboxes" lab feature to display starred emails.

Snooze Emails
Snooze allows you to flag an email for looking at later. You can chose a date and time and the email is moved out of your inbox until this time is reached. The email then moves back into your inbox at the designated time.
Bundle Emails
If you don't filter your emails using Gmail's inbuilt filter and labels the you may want to look into bundles for organising your emails.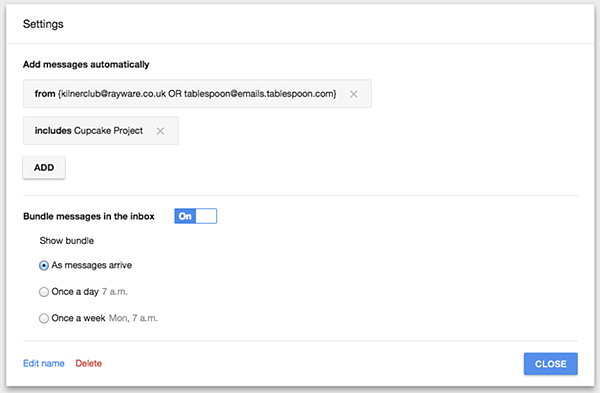 Bundles allow you to stick similar emails together so that they don't clog up your inbox. The app comes with some pre-made ones such as travel, purchases, and social but you can create your own by selecting and email and adding it to a new bundle.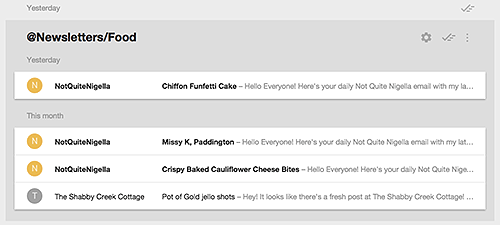 The Bad Points
It only works with Gmail addresses
Gmail recently rolled out the ability to add non-gmail addresses to their app, Inbox currently only allows Gmail addresses to be used.
You can't change the notification sound
This might sound like a minor problem, but I have several email accounts set up on my phone and I like to have a different notification for each account. Currently you can only use the default notification sound for incoming messages.
No access to contact group email addresses
This is fine on a mobile app – the same is true of the Gmail app, but you can't access any contact groups in the web interface.
This is really annoying as I regularly send emails to multiple recipients each week and have set up different contact groups to reflect this, this saves time entering addresses and avoids missing someone out when sending email. Why the Inbox web interface has no access to this feature is beyond me.
Emails flagged as starred or important in Gmail aren't converted to anything
If you've spent a lot of time starring emails these won't be shown in Inbox under any label or pin, neither will any items marked as Important in Gmail. While this may not be a deal breaker for some, it is rather annoying.
Labels aren't converted to Bundles
If you've got filters and labels set up as I have (more on that in my post on How I Use Gmail which is going up on Wednesday) they don't automatically become bundles, you'll have to go through and set your bundles up. You can view your existing labels and the filters are still applied though.
Be warned though, moving items from a filtered label into a bundle removes the filtering and labelling for this email so if you check the email in the Gmail interface or app you'll have a load of emails in your inbox. Similarly, if you set up Bundles, these aren't converted to filters in Gmail. This means any organising you do in one app isn't reflected in the other so bear this in mind.
The only difference I can see between the filter into labels in Gmail and the Bundles in Inbox is that the Bundles appear in you Inbox grouped together. As I'm a fan of Inbox Zero, having bundles in my inbox isn't a thing that I'd really want – I want my inbox clean so that's why I've gone down the filter route.
No date/time or location based reminders
I would have liked to have seen the ability to set a time for a reminder to alert me to do something. I guess I could snooze the email until this time but I may wish for these two times/dates to be different.
Also, I don't know why they haven't included locations in the reminders. I would have thought this could have been integrated with Google Now to remind you to "Call Bob when I get to the office".
Final Thoughts
I may have been a bit harsh when writing this review. Inbox is, after all a relatively new product. There are some niggling items though that I've listed above that I think could have (and should have) been addressed early on.
Because of the issues with Contact Groups not being recognised, the fact that I already have a robust filtering and labelling system set up and bundles clogging up my otherwise "Zero" inbox I've reverted back to standard Gmail on the web. On my phone I'm currently trying out Mailbox from the creators of Drop Box which I already prefer over the Inbox app.
I think the hype around Inbox and its limited release may have caused a bit more interest in this app than perhaps was warranted. That being said though, if you're overwhelmed with the number of emails in your inbox, don't have a clearly defined system in place and want to try and tidy up your unruly inbox then this app may actually work for you.
Please Note
: This post may contain affiliate links. By clicking on these links you will not be charged any extra for purchasing goods and services from our preferred partners however flippingheck.com may receive financial compensation which contributes to the running of the site. For more information please read our
Advertising & Affiliate Disclosure Policy