Disclaimer: This post is a sponsored post from ReviewMe – Hey, I need to buy shoes okay?! Plus I'll only review something that I think will benefit the audience of this blog.
EarnMyDegree.com has collected a list of over 20 Project Management degree courses at a variety of levels that users can complete online.
The website provides a brief overview of the course contents as well as a handy link that enables you to request free information packs for the course(s) of your choice.
The list of available degrees is quite comprehensive covering Graduate, Bachelors, Masters and MBA levels so there's something there for every level of interest.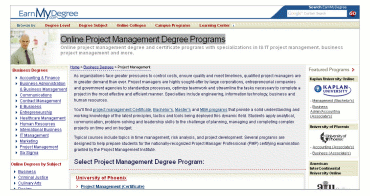 Whilst the website provides a link through to each university on the course details page, it would be nice to see the cost appearing here also so that you don't ask for information for a course you may not be able to afford and you also have to apply for the information for each course separately which is a bit of a pain if you want to get information on more than a couple of them.
Overall though, the website is a really good idea. I've been thinking of taking some form of online degree for a while and I'll definately be looking through this site when I've managed to block some free time in the evenings.
It's good to see that Universities are finally realising the need (or the desire) for people to learn project management in a structured manner rather than "on the job".
The only question is, which degree to choose? Checkout the Online Project Management Degrees yourself and pick something that suits your fancy!

Please Note
: This post may contain affiliate links. By clicking on these links you will not be charged any extra for purchasing goods and services from our preferred partners however flippingheck.com may receive financial compensation which contributes to the running of the site. For more information please read our
Advertising & Affiliate Disclosure Policy
Subscribe to our mailing list
Join Hundreds of readers who have access to exclusive downloads and content