Yesterday (yes, I""m a bit slow on the uptake!) saw the launch of "Productive!" magazine, a magazine dedicated to… er… Productivity!
Brought to you by the creator of Nozbe, the magazine""s mission:
Productive Magazine is a platform where the top productivity bloggers will share their best productivity principles and tips"n"tricks. Let"s help everyone get more done and be more productive!
The bonus is the magazine"s a free download!
I"ve only had a chance to have a quick look through the magazine (some of us do have to work you know) but it looks really well done – it certainly wouldn""t be out of place on the shelves in my local newsagent – and there""s articles with many well known GTD gurus including >David Allen himself and Leo Balbauta of Zen habits.
So, if you""re into productivity (which I guess you must be if you read this blog!) then head on over to "Productive!" magazine and download your free copy.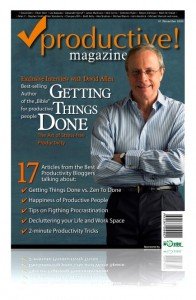 Subscribe to our mailing list
Join Hundreds of readers who have access to exclusive downloads and content