I came across the rather brilliant little programme "iColorFolder" today [via Lifehacker].
I have started using my Mac at work a lot more and found that labelling files and folders was a brilliant way of remembering what I was working on or what needed uploading. Now you can do this (with folders at least) on your PC – Yeay! below is a screenshot of a site I am currently working on, you can see the blue folders quite clearly so now I know what to FTP without having to scribble everything down on little bits of paper – Hoorah!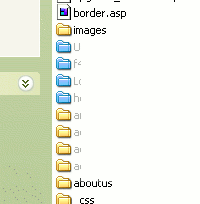 Now, all I need is something to label/highlight files and I'll be laughing. If anyone has any suggestions I'd love to hear them.
Please Note
: This post may contain affiliate links. By clicking on these links you will not be charged any extra for purchasing goods and services from our preferred partners however flippingheck.com may receive financial compensation which contributes to the running of the site. For more information please read our
Advertising & Affiliate Disclosure Policy