Stress is a ruthless productivity killer. In a study conducted across 12 countries (including the UK and US), half the workers surveyed claimed to be so stressed that it was affecting their work. If you've ever called in sick because you were simply too stressed out to function, you're not alone. In fact, millions of workers are calling in sick every day due to stress. Left unchecked, stress can take a serious toll on not just your career, but also your overall wellbeing.
Avoid Getting Blindsided
With today's highly competitive workplaces, job-related pressure is unavoidable. You can't just ignore stressful tasks and hope that they'll go away. In fact, avoiding problems makes them even worse in the long run. By facing the issues head-on and processing them in healthy ways, you'll actually be able to get some work done, instead of wasting hours just worrying about how you'll get work done.
Because work can get unpredictable, you should stop stress before it even starts by creating buffers for the unexpected. Stress buffers include having a strong social support network in and out of the workplace, or even just accomplishing tasks ahead of their deadlines instead of waiting for the very last minute. Preparation is key.
Organise Your Tasks
If you're feeling overwhelmed with the number of tasks on your to-do list, make things more manageable by organizing them into four categories: (1) Urgent and important; (2) Urgent but not important; (3) Important but not urgent; (4) Not urgent or important. This gives you some perspective on your tasks and lets you focus more on what really needs to be done instead of stressing over everything at once.
You can also make your tasks look less intimidating by using a kanban board, which is a productivity tool you can use to divide tasks according to their status. The most simple kanban board is divided into three columns: "to-do", "doing", and "done", but you can always customise this according to your needs.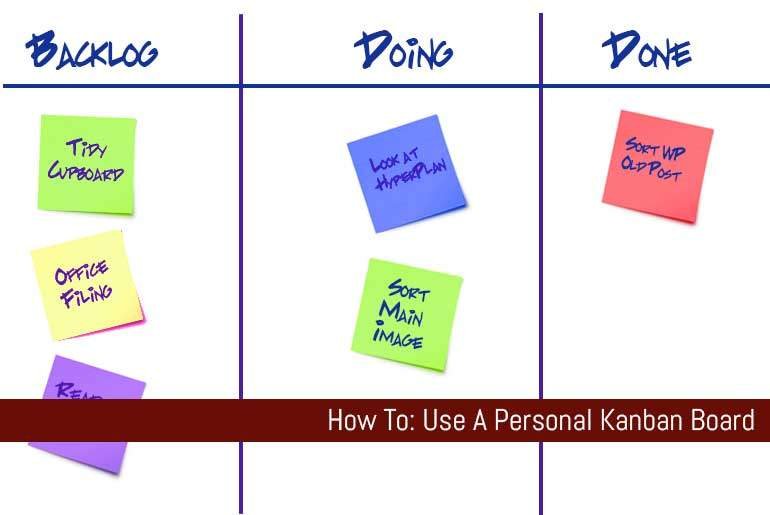 How To: Use A Personal Kanban Board
Kanban isn't a new method for managing your to-do lists, but it's certainly kept itself quite in terms of personal productivity. In this post I look at how to use Kanban Boards to manage your to-do lists and keep track of your important tasks.
Just a quick Google search can lead to you to several user-friendly digital kanban boards, but using a corkboard or magnetic board may be better for your stress, as you'll have a tangible representation of your tasks in front of you (and one less window or browser tab to keep track of). Plus, physically moving tasks to the "done" column just feels amazing.
Take Strategic Breaks
One recent workplace survey found that even though 69% of respondents regularly take breaks during the day, only 38% actually feel refreshed afterwards. What you do during your work breaks makes a huge difference in your productivity and wellbeing. Take a break from your screen, and if possible, leave your phone behind and get up from your desk. A quick walk around the block to blow off some steam is much more effective than mindlessly scrolling down your social media feeds.
There isn't a one-size-fits-all approach to stress management, but these tips should help you make even the most daunting jobs more manageable. Some weeks, work will come easy and you won't even feel the need to take a break. Sometimes, you might need to take multiple breaks to be able to function well again. Just remember to take on one task at a time, be mindful of how you're feeling, and let yourself take a breather every now and then.
You've got this.
Please Note
: This post may contain affiliate links. By clicking on these links you will not be charged any extra for purchasing goods and services from our preferred partners however flippingheck.com may receive financial compensation which contributes to the running of the site. For more information please read our
Advertising & Affiliate Disclosure Policy