Today we observe a general tendency of working remotely. This is especially true for Millenials with an open and progressive mindset. They are searching for a perfect work-life balance. Flexible schedule, extended vacations, unlimited days-off, and other multiple benefits of freelance work.
Though, remote work offers not only "fun advantages." The main thing is that your opportunities extend pretty much. You don't need to limit yourself applying to local companies only. You can send your CV to a dream position at some international niche leader.
In this article, we are going to discuss all aspects of remote work, its pros and cons as well as required amenities of the coworking spaces that replace offices to freelancers.
Why Do More People Choose to Work Remotely?
Remote work is not for everyone just like office work. You must be responsible to successfully complete the tasks being isolated from the team and manager.
However, if you are able to organize your workflow, you can enjoy all the freedoms and benefits of a remote job.
Office Work is not for Everyone or Getting the Most of this Life
Did you ever think that not everyone can be tied to the office desk during the day? For instance, how can a single mom advance her career? Should she make a choice between bringing up a kid and realizing her professional ambitions? Sacrifice doesn't make anyone happy in the long run. So, I guess the best option here is to get hired for the remote position and find a nice cozy female-oriented coworking with all the required amenities and collaborative community of supportive like-minded members.
Well, suppose you have a vivid creative mind that constantly needs inspiration. You can do artistic things sitting at the beach, feeling the salty breeze on your face. Sounds too good to be true? Why not, go on workation to some exotic destination and stay there as long as you like it, then move to another location to study another culture. If you are into an adventurous kind of life, a freelance job if a perfect one for you. A cool thing is that your employer doesn't care whether you are at the beach, in the forest or at the mountain peak as long as you deliver high-quality projects on time.
Of course, these are not all people categories that feel happier working remotely but I am not going to make this article too long to read and skip to the next section.
Why Hiring a Remote Worker is Beneficial for the Company?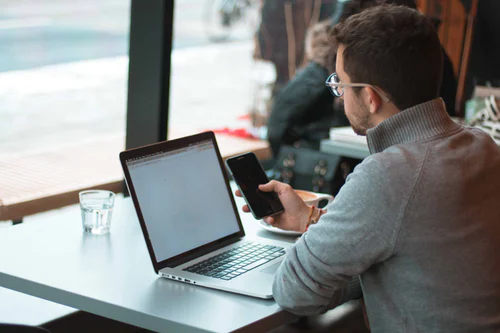 Would you like to know what employers think about remote workers? Are they happy to cooperate with freelancers? The answer is – yes, definitely!
First of all, hiring a remote worker they save. An employer doesn't need to prepare a workstation, buy PC, hardware, increase the quantity of office supplies, etc., etc.
The chances to get a super-professional in your team grow incredibly as you can look for an employee worldwide. You don't need to worry that the expert you would like to sign a contract with will have to reject it because of the associated allocation.
No rigid management needed. Remote workers optimize workflow themselves, they are highly motivated and responsible. So, companies save their resources that may be focused in some other place.
What Challenges of Remote Work are Waiting for You
Everything has a flip side and remote work is not an exception. I must be honest and unbiased and warn readers that are considering the shift to freelancing about common challenges waiting for them.
Well, most of the freelancers suffer from loneliness. They lack direct communication with peers, their eyes and smiles, friendly conversations during lunch and coffee breaks. People are social beings and fall into depression when deprived of society.
Another challenge is the lack of collaboration. At the office team members collaborate all the time. If you have an issue you can discuss it with colleagues and managers and find the optimal solution. It's much easier to run the shared tasks when you sit next to the person. You can coordinate your activities efficiently.
A lot of freelancers complain that it's extremely difficult to work at home. You get distracted every now and again. It's impossible to explain to a toddler that mom/dad can't go for a walk at the moment. In fact, there are many more distractions at home and there is no need to list them all here.
Very often freelancers work with colleagues/partners living in different countries, in different time zones. So, it's highly probable that you will have to adjust and tweak your schedule if you want to catch your team members online.
Not all freelancers have everything necessary to stay productive at home. That's why they need to search for a well-equipped (high-speed internet, stationary phone, printer, scanner, powerful PC, widescreen monitor, vacuum earphones, etc.) workspace nearby.
Sorry if the above challenges scared you a bit. I didn't mean it, moreover that coworking spaces address almost all of them easily. You just need to find a coworking space that meets your requirements and become a subscribed member. I guess your employer will even cover your expenses. Anyway, it's cheaper than keeping you at the office.
How to Choose a Perfect Place to Work

Now let's get to know how to pick out a perfect space and what facilities it should offer to the members.
I advise you to start searching near your house or near the traffic hub because one day you may leave your car at the service and just walk there or take a bus, subway, whatever.
Don't forget to check if a coworking space has a convenient parking lot for the days when you come by car.
It's better if a coworking space is open 24/7. What if you have an urgent task and must work all night. You may also have a late meeting, negotiations with partners. Workspace operation hours mustn't prevent you from doing your job.
High-speed internet anytime is a must. Nothing is more irritating than bad or interrupted connection when your deadline is approaching.
The furniture should be comfortable and ergonomic. You sit for long hours in front of the computer monitor, a good desk and chair can help you avoid hard back pain.
Look at the provided equipment. Advanced hardware will help you cope with your tasks faster and make your experience better.
It gets evident if the coworking space is a stranger to modern technologies or the evangelist of the ones. If they strive to automate all routine processes with the help of specialized coworking software, you will never wait for a community manager to let you in, escort to your desk, make a payment, and so on. Space will be accessible for you 24/7, you will be able to book and pay for it online through a user-friendly app interface.
A good coworking space is more than a desk and computer. It's a friendly, collaborative community of members who support each other during the working hours and like to hang out together attending training, classes, and other events.
Figure out if the hub offers tea, coffee, water, snacks to order if you are too busy to go out to a coffee shop or cafe. See if there are nice restaurants nearby where you can get healthy food.
If a coworking space cares about building a community, they carry out events, training, sport and fitness classes, and other sorts of activities where you can network and socialize. All work and no play makes Jack a dull boy, isn't it? If you are going to visit one and the same coworking for some time it's natural that you want to have friendly relationships with other members. This will help you feel at home, stay relaxed and productive during the day.
Takeaways
Remote work, freelancing, workation, digital nomads, all these are current trends and ways to balance personal life and career. Are you into them? I hope this blog post threw some light on different aspects of the remote work style.
I highlighted some of its major pleasures and drawbacks and a sure-fire way to address the latter. If you still have questions, you are welcome to ask them. Want to discuss the topic? Do you work remotely? Do you use coworking? What amenities of the coworking space are crucial from your viewpoint? Drop me a line in the comments and we'll talk!
Please Note
: This post may contain affiliate links. By clicking on these links you will not be charged any extra for purchasing goods and services from our preferred partners however flippingheck.com may receive financial compensation which contributes to the running of the site. For more information please read our
Advertising & Affiliate Disclosure Policy