Most homeowners use their living room and kitchen to showcase their personality. However, kitchen renovations top the list as the most popular and common renovations done by homeowners.
A kitchen renovation brings a new look to the room. In most cases, people undertake kitchen renovations to showcase their personalities or increase their functionality. Kitchen renovations encompass a lot of possible modifications that one can make.
Due to its vastness, kitchen renovations can easily become an expensive endeavor. For most homeowners, the average kitchen renovation costs from $12,567 to $34,962. This price range is high for most individuals looking to carry out a kitchen makeover.
When undertaking a kitchen renovation, there are a few methods that one can observe to ensure they do not spend too much. In this article, we look at some methods for saving your budget on kitchen renovations.
Pick One Feature To Splurge On
Contrary to what you might have expected to read, it is important to pick one feature that is crucial for you and splurge on it. The crucial area for you might be the feature of your kitchen that irked you the most. It can also be one that you feel you would want to be done completely differently.
Picking one feature to splurge on ensures that you do not feel that your kitchen renovation is not good when the process is done. When picking a feature to splurge on, it is essential to keep your budget in mind. You should not spend more than 30% of your budget allocation on that feature.
The feature to splurge on is often different for every person. However, there are some common features that many people are inclined towards. The kitchen countertop and installation of unique kitchen faucets are often the highlight feature for most people.
For the kitchen counter, one has a variety of possible options to go for. The most popular materials chosen by many for their kitchen table tops are quartz, granite, and marble. Whichever choice you go for is dependent on your personal preferences, specifically, the look and texture that you want.
Installing a unique kitchen faucet gives the kitchen a royal feel and aesthetic. Unique kitchen sink faucets can range from steel faucets, gold faucets, and black and stainless kitchen faucets, to brown kitchen faucets.
Once you pick one specific feature to splurge on, you can distribute the remaining budget allocation to the rest of the kitchen. With this, the unique feature that you have splurged on will act as a centerpiece for the kitchen.
Use The Cabinets Already In Place
It is almost a staple for people to switch their kitchen cabinets when undertaking a kitchen renovation. This, however, is not a procedure that must be done during a kitchen makeover. If your cabinets are in good shape, there is no need to replace them.
The procedure of removing and installing cabinets requires a lot of manual labor, thereby, it is expensive. There are several options that one can go for rather than doing a full cabinet replacement.
One of the common renovations done to cabinets is replacing the hardware. For cabinets, having proper hardware in perfect condition is the most vital point to avoid any breakages. For hardware replacements, one can change the mounting brackets, cabinet door hinges, or knobs if there are any.
When replacing hardware, you can opt to go for hardware that accentuates the visual dynamics that you are looking to get with the renovation.
Another cabinet modification that one can do is the installation of molding. Cabinet molding entails installing strips of decorative wood. Installing molding on your cabinet will give the cabinet a revamped look due to the new design pieces installed.
Your other option for revamping cabinets is repainting them. You can choose to repaint your cabinets and get them to match the new pieces that you are adding to your kitchen.
However, if you are not sure of which color to use on your cabinets there are a few basics that always work well. Painting your cabinets white enhances natural light in the kitchen thereby making it look bigger and feel more open. For a calming effect, any shade of the color gray gives the kitchen a cool and calm aesthetic.
Install Pre-Assembled or Ready to Assemble Cabinets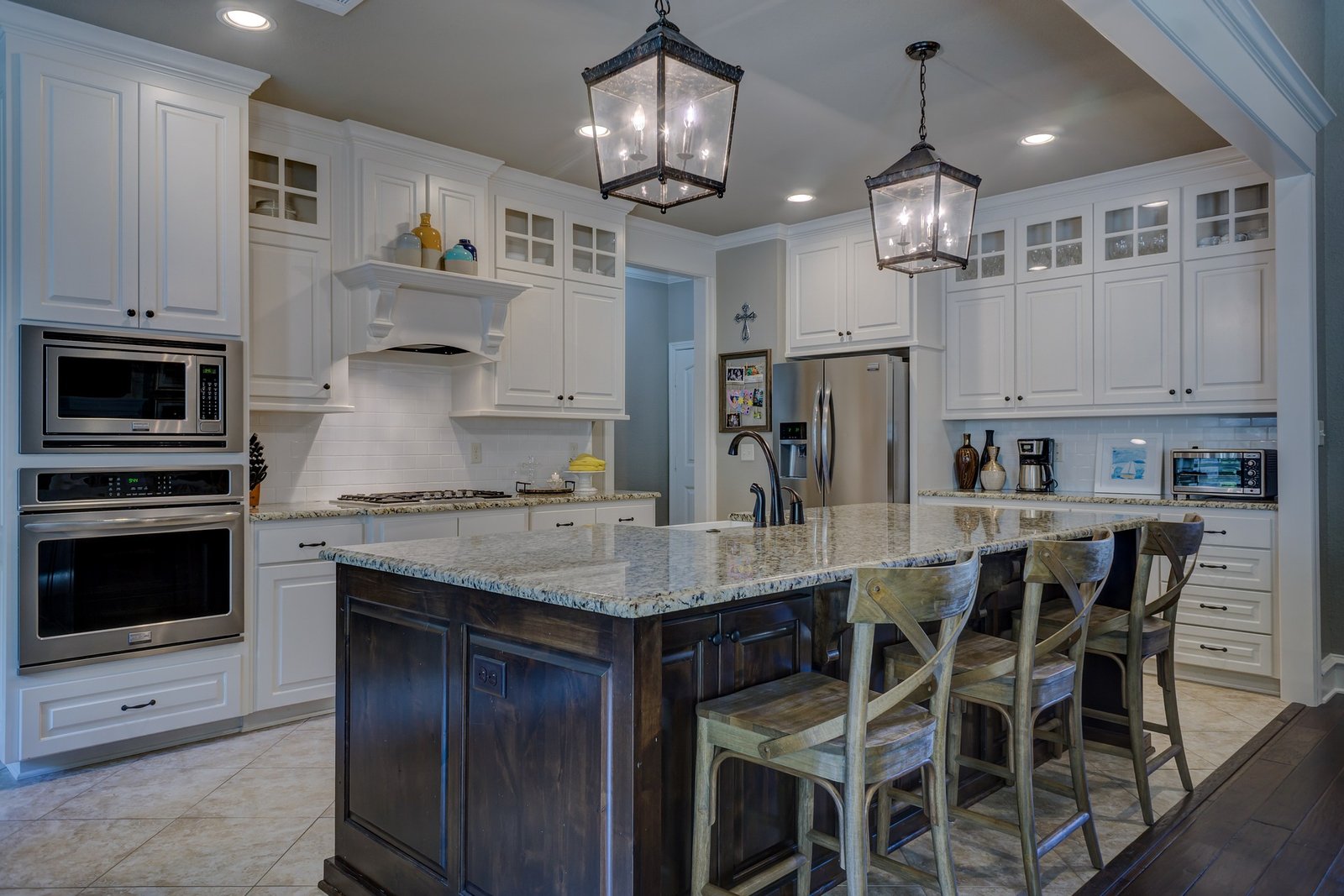 Image Source: Shadowfirearts on Pixabay.com
For those whose existing cabinets are not in good shape, it is inevitable to replace them during a kitchen renovation. When replacing cabinets, most people often think that getting them prebuilt is the better option to get better fitments.
However, when looking to minimize expenditure incurred for a kitchen renovation, it is better to use a pre-assembled one. You can also go for ready to assemble cabinets. For pre-assembled cabinets, you have to get the measurements that you want. You can then buy them at reliable sellers for house furnishing products.
Pre-assembled cabinets have less installation labor therefore they are less expensive. The ready to assemble cabinets are usually prebuilt with all required panels and tools ready. For these, the only task you have to do is assemble them and mount them in your desired positions in the kitchen.
A key factor to keep in mind is that your contractor must ensure all measurements taken are accurate. This will ensure that you do not purchase cabinets and end up incurring a loss because they do not fit properly.
DIY
When looking to undertake a kitchen renovation project, you should analyze all the installations or tasks that will require professional assistance. When doing the analysis, you will realize that you can do some of the tasks yourself.
Tasks such as installing new kitchen faucets can be taken up as a DIY project. This will help save money that would have otherwise been spent paying the contractor for labor services. However, it is important to ensure that you have all the necessary tools before taking up the DIY tasks.
Conclusion
Kitchen renovations can be awesome activities that you can do as a family. It's a great way to revamp your kitchen and breathe new life into it. It can get expensive so consider the discussed methods above on how you can save money during the renovation.
A vital factor to keep in mind when remodeling your kitchen is your source of the materials needed. Due to the high number of vendors, it is easy to land on a vendor who sells their products at exaggerated prices. These vendors also sometimes sell poor-quality products.
You should do your due intelligence on product prices and quality before settling on a dealer. As a safe move, you can ask your contractor for good vendor recommendations.
Please Note
: This post may contain affiliate links. By clicking on these links you will not be charged any extra for purchasing goods and services from our preferred partners however flippingheck.com may receive financial compensation which contributes to the running of the site. For more information please read our
Advertising & Affiliate Disclosure Policy